International Champion Boomer Nabatea*ES
NFO d 09 | Red & White
D.o.B 01/07/13
Male


When S* Utblickens Haluza arrived Nabatea it was in our plans to have a girl of this fabulous lady with a pedigree that we love very much. Also it make it special when the father side was also from La Peyre cattery, but plans with cats are always to be changed and in July 2013 Hali become a mother of a singleton boy. We couldn't keep the eyes off him so it was decided he will join us as our stud boy later this year.
Boomer is that very special boy that arrived in the beginning of December 2013, after our friends Carol and Saul took him to France, where we spent a lovely show weekend in Perigueaux before bring him to England via Eurotunnel, as in England he only would be able to enter in the cellar of a plane and we wouldn't do that to any of our family pets.
He settle right in and loves all the cats and humans, as he is still out and about enjoying the company of her most beloved Sybil, his favourite of all the times and he goes at night to sleep with his pal Freddie. He is a very busy boy and you only get to see him relaxing during a show, otherwise his schedule is very busy :-).
He has the most lovely and at the same time naughty temperament and it is always like a bit of sunshine, even Amadeus thinks the world of him when they share the garden time.
We love his development and at 8 months old is over 5 kg, we can't wait for him to be part of our breeding programme but in the mean time we enjoy having the big red baby of the house.
We can't thank you enough Carol and Saul for allow us to be part of Boomer's life and for entrust us your special baby.
Both Parents and grandparents are HCM Normal, he will be tested when he is old enough :-).
GSD IV negative (by parentage).
PK Def N/N (by parentage).
FELV/FIV Neg. FCV/FHV Neg.
Boomer was also tested in Langford to confirm he is a solid red carriying dilute :-)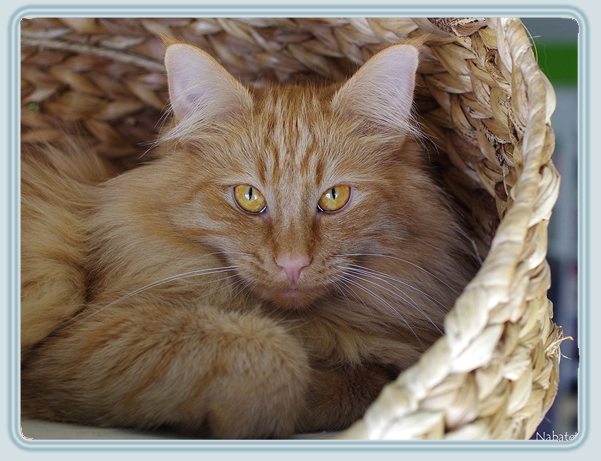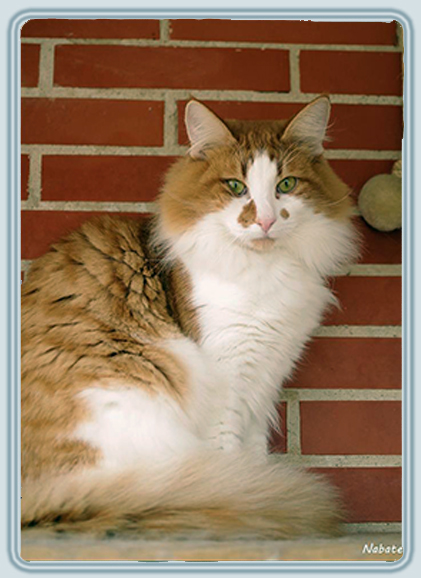 Boomer's mother S* Utblickens Haluza and Father Wadi Rum Nabatea*ES