Updated Monday 15th March 2021
I finally give a go to an update although there are pages as "About us" that is refusing to update, but im still fighting with the computer so bear with me.
Like everyone else we being surviving lockdown well, we can't really complain so much. We all miss Dave so much but are very thankfull we have all the cats who certainly keep us very much entertained.
On January the 8th we welcomed the Bridgertons, and the high society are delightfull souls.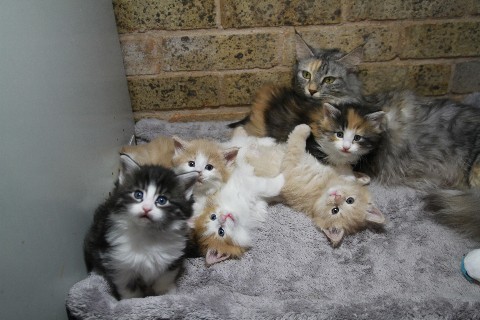 They are now being introduced to society of Nandinakatts and they fit perfectly as well as being very popular. Big sister Nikita is being there for them sice they were born :).
I being very busy online as well and thank you to Royal Canin I have done several Seminars online about, nutrition, ideal weights, birth and growth...etc. Really interesting and as you are always learning this is important, specially as a biologist is good to refresh your roots ;).
I am still member of the Norwegian Forest Cat Council in Fife.
On the 24 of January we have some snow for the delight of some of our cats and they enjoyed as always as it was a long time.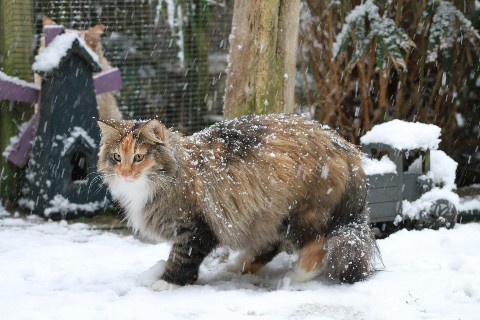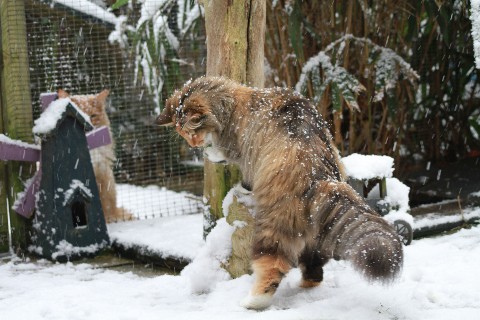 For same of them like Nikita this was the first time she could enjoy snow.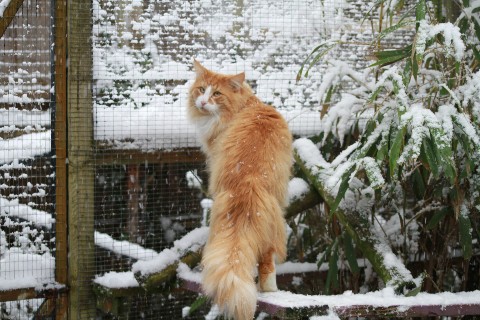 Punky absolutely loved too.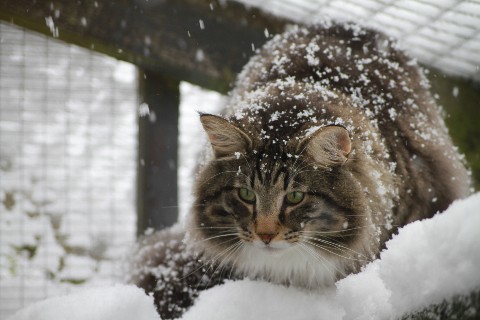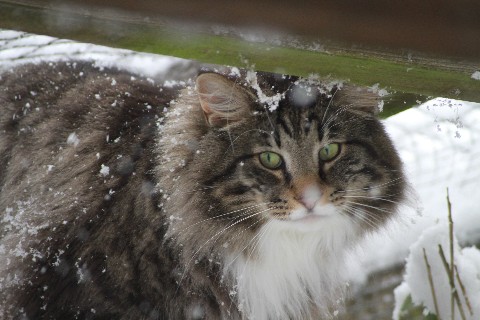 Prince Charming :)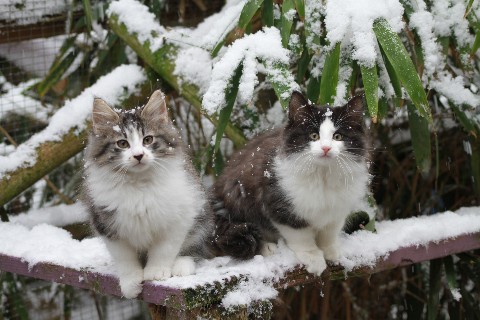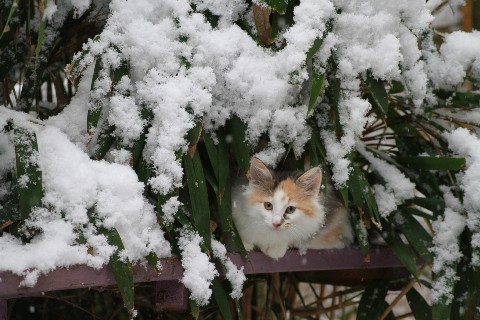 The kittens also enjoyed the snow.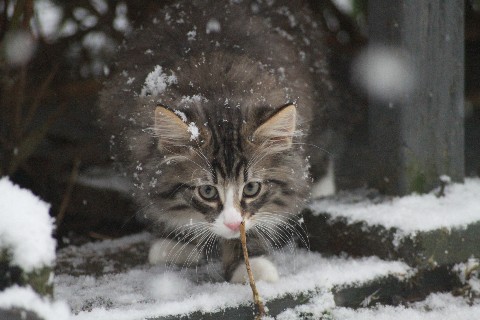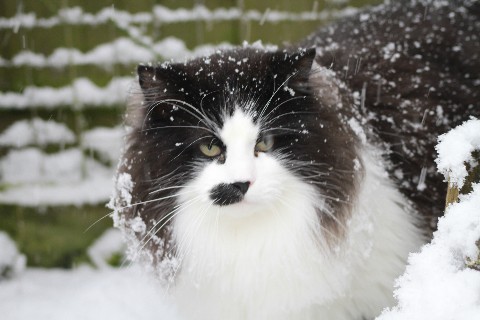 Bigotitos (Tommen Baratheon Tree House*ES)
In November we welcomed Our (not his :)) Dark Material Litter and little we knew that if every single litter is always precious an special to us this one will be a little bit extra. Have a look into our past litters if you want to know what happened :).All these beautiful babies are now very happy and settle for the look of the pictures and videos in their new homes, and there is nothing more gratifying and feel good feeling than they gone from home to home and are now being loved and adored in their new homes
19th October 2020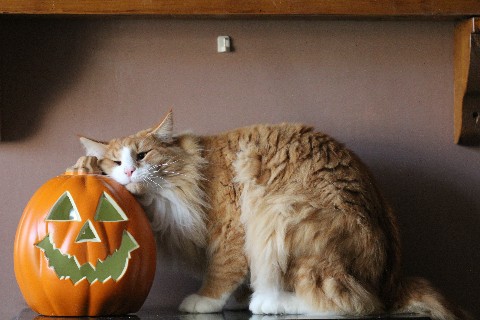 Uploading Halloween 2020 ...............===........

Being all ok we are expecting the tiny patter of tiny paws in the middle of November :)
All of our kittens are now happily settle in their new homes :).
During the lockdown we were lucky enough to do some virtual shows and we are over the moon with the results
In Felis Britanica Virtual Show Boo (GB*Nandinakatts Mississippi Mud Pie) not only won her class she went into win Best of Best!!!
In the Strictly Cats we enter 4 Cats an the results were also amazing
CH GB*Jellicles Moon Pumpkin Fizz, JW was nominated and went into win Best in Show Male
GB*Nandinakatts Damon Salvatore was also nominated and won Best in Show Male Neuter
GB*Nandinakatts Nikita in her fisrt ever show, was nominated on kittens 4-7 months, managed to become Best in show kitten, Best overall kitten and went into win Best in Category II!!!!!!!
https://youtu.be/ldatfNUHUSU
Here you can see a video of the results and soon I will be downloading the gorgeous rosettes and diplomas.
Of course we are extremely proud of all of our cats and kittens.
Everyone is enjoying the bubbles even if it is in between the rain :-)
Father of our current litter and very hands on daddy, the one and only Punky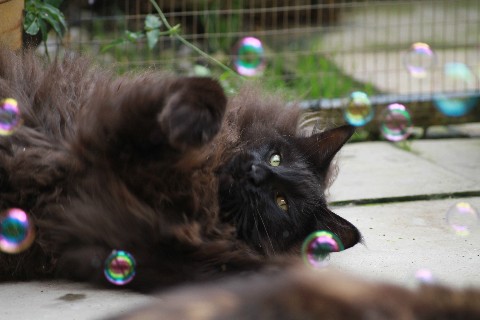 Mr Salvatore also loves one bubble or two :)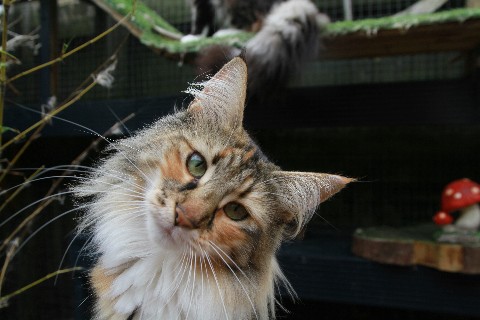 Pretty Miss Fray :)
07 March 2020
After a big fight with the website we might actually have this working again :-)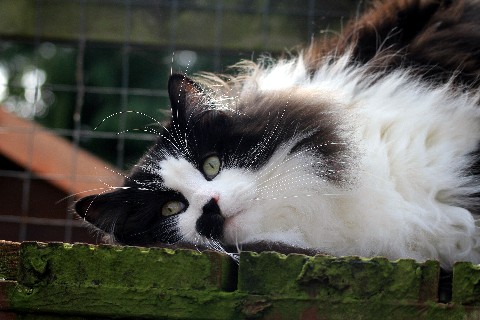 Tommen waiting for the Spring and the ladies :)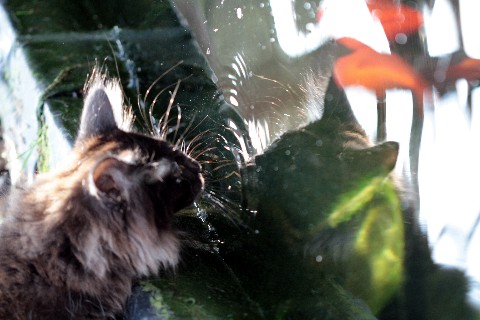 Dr Luther Swann admiring himself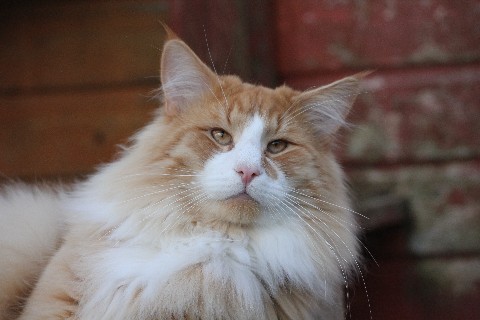 06 August 2019
Well I finally managed make my website program communicate with the server and yeiiiii we are online again!!!!.
We are all fine, only slighly older since the last update but very happy and well, from now on I will try to keep this more updated ;).
On the 2nd of May we welcomed or fisrt litter of the year our Shadowhunters Runes Litter: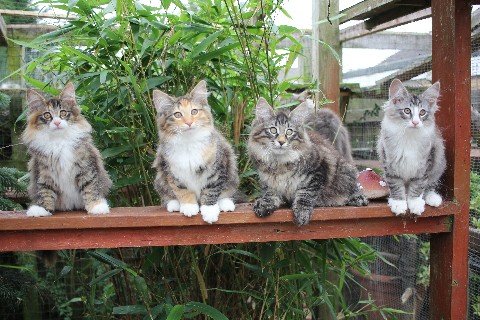 Fom left Iratze, Heavenly Fire, Enkeli and Parabatai.
There was a blue silver kitten but due with complications of ingesting a lot of fluid at birth he was only with us a few hours, Eco was unidentical twin with Parabatai (tested via DNA)
We are extremely proud and happy with the first litter of Punky.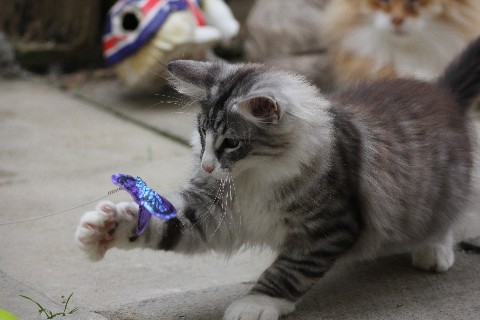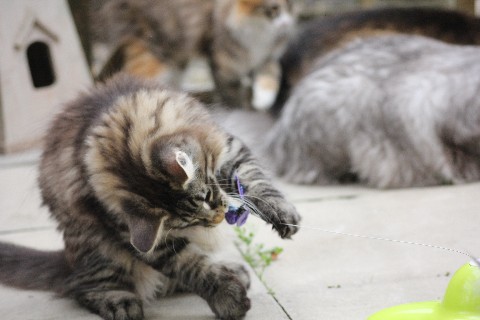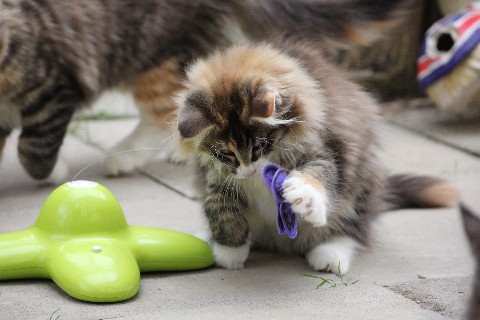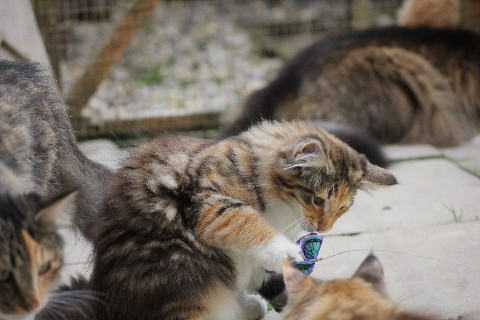 29th October 2018
Happy Halloween everyone!!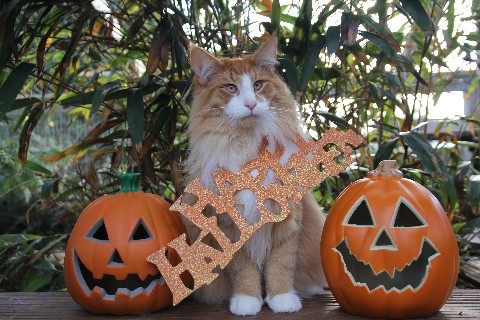 Well... he made it!!!!!, in the last show in the Nethelands Punky did 2 more Best in Show Kitten 7-10 month and he was also Best in Category II and Best of Best 3rd on the Saturday with nothing less than 2 more Best of Variety and achiving the very hard title of Junior Winner!!! To say we are super proud is an understatement. He achieved all this before his 9 month birthday :-)
The kittens of Bonnie and Tommen are growing beautifully, they are really chunky monkeys and on Friday they will receive their first vaccination and will be ready to enjoy the garden.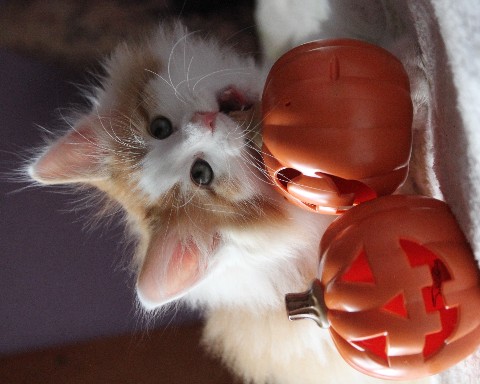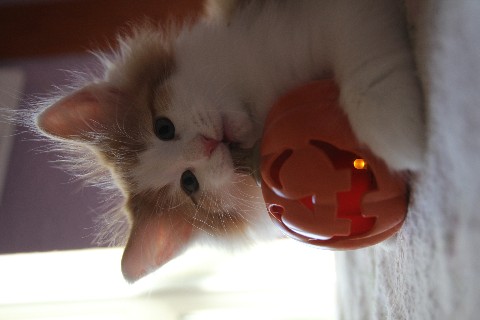 Elijah in Halloween mood :-)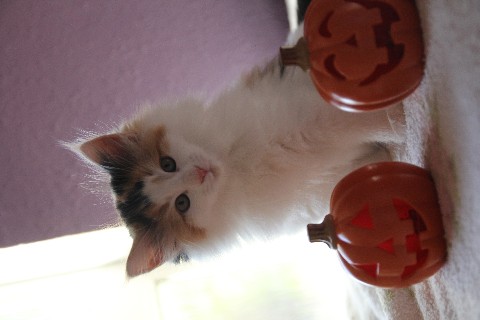 Rebekah :)
They are very sweet kittens are we are very happy with their development.
GB*Nandinakatts Bournvita is expecting her first litter with GIC GB*Nandinakatts Seeley Booth DVM, we are very excited about this combination. Kittens are expected for the end of November being all ok.
4th October 2018
Where to start?....
All the kittens of Boo and Tommen are now joined their new familes, it was a fantastic litter to share our lives with. Some of them are joined the breeding programs of other catteries, and even abroad and we are extremely proud of all of them.
In the end of June we welcomed a new member in the Nandinakatts family, after a long wait since we wait until his mum was old enough to be mum it was time for GB*Jellicles Moon Pumpkin Fizz to join us. Such an amazing boy with and incredible temperament. With his two parents being imported from Sweeden it is not surprise that his pedigree match his temperament and looks.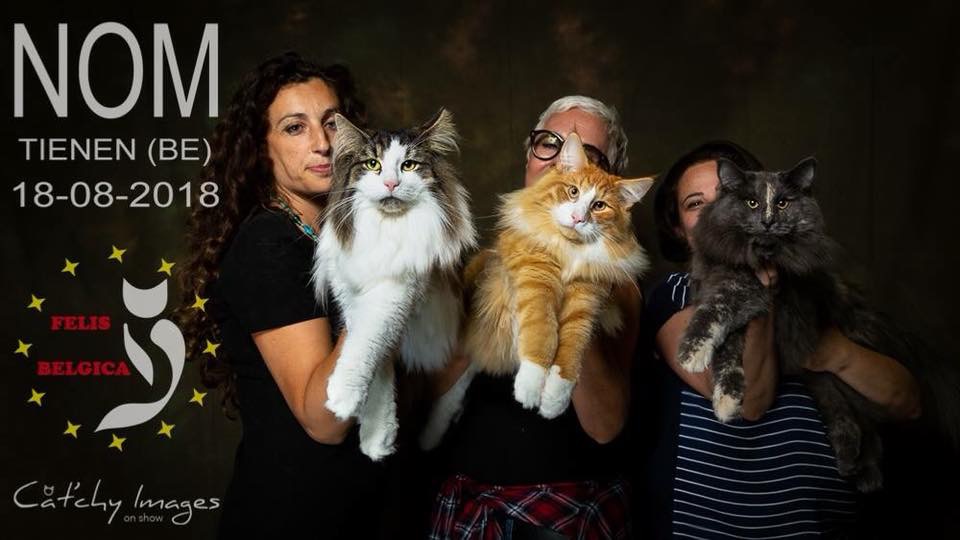 Here he is with his mum and dad in his second show in Belgium when he was both days Best in show kitten!!!
He is done 4 shows of 2 days each over Europe, with amazing results, he is being 6 times BIV,7 times nominated and achieved 4 Best in Shows, loosing 2 more on split votes achiving all that at only 7 months old!!! We are so proud and grateful to his breeder Simona Viola not only for breed such a boy if not for make all this traveling possible as at the moment i am not able to travel any long distances.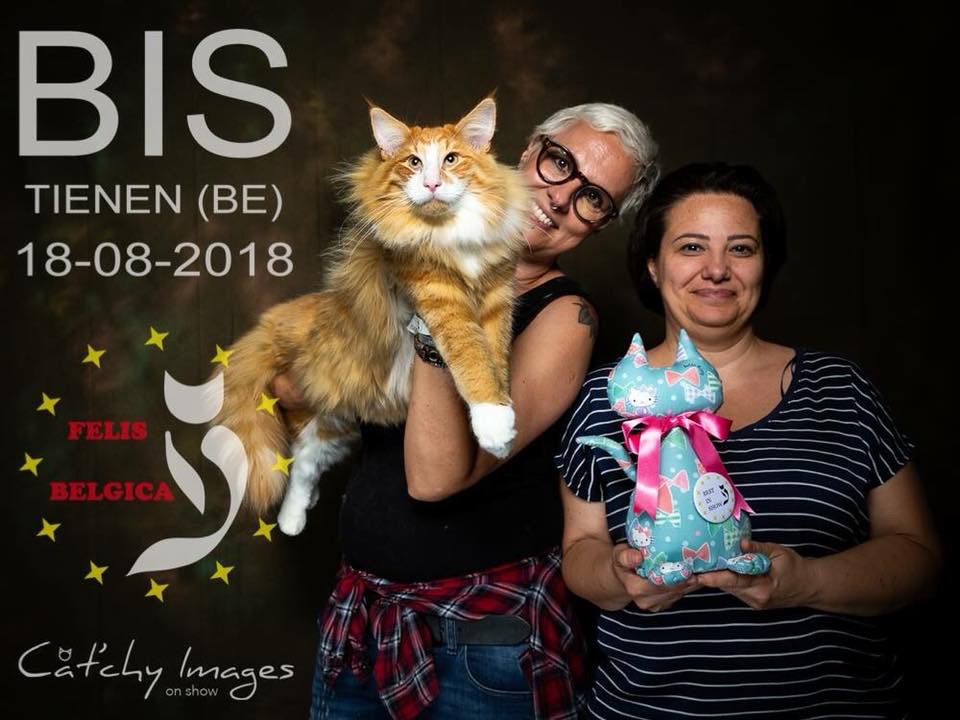 In the last day of August we welcomed our second litter of the year, The Originals.
It seems impossible but they are already 4 weeks old and what we can say.... the little vampires are delighfull. When i have more time i will update with new photos of they current age
We are also devastated that a few weeks ago the one and only Enya (Pr GB*Jotunkatts Katsura) left us suddenly due to an accute heart failure, we have not words as it was sudden and we know this is part of having pets, but is never easy. She will be always part of our hearts.
Now into something a little bit more happy as life continues...we might be expecting kittens finally from Bournvita and Cocoa, but as other times plans never materialized we will wait until we are sure to put the info :-)
Being all ok Punky will travel soon to London, were he was born and then he will go to Nethelands to follow the dream of become Junior Winner.
We hope we have some more good news to tell you all soon :-).

29th May 2018
Is was the 10 year birthday of our first litter!!! so that means that Nandinakatts is also 10 years of breeding.
We are very happy of share this hobby with other people and friends, and all the wonderful people we have meet along the way that share our passion for Norwegian Forest Cats.
Our no longer little "bunnies" are growing to be a delightful characterful kittens.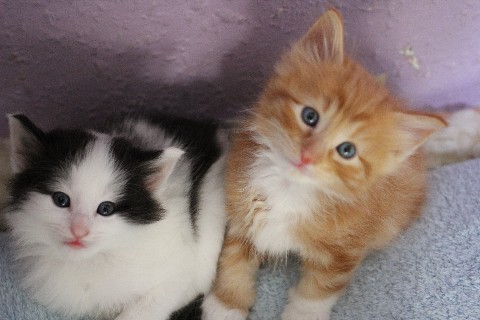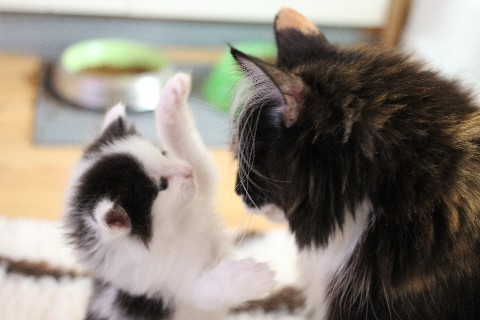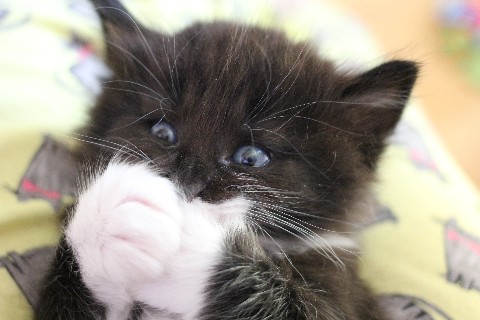 7 May 2018
Cats are being enjoying the bank holidays, the weather and some bubbles :)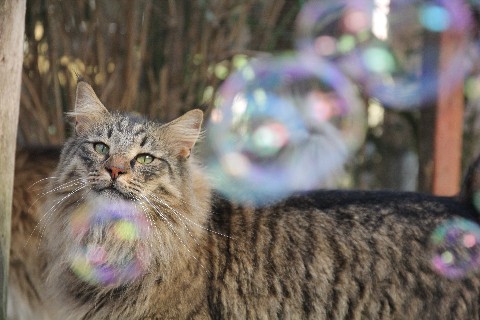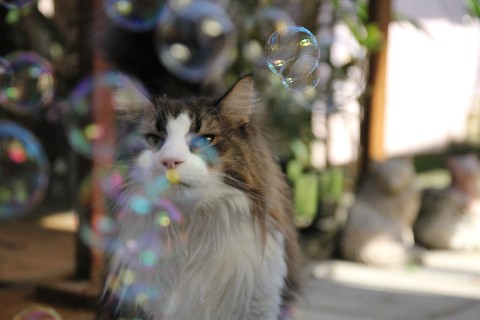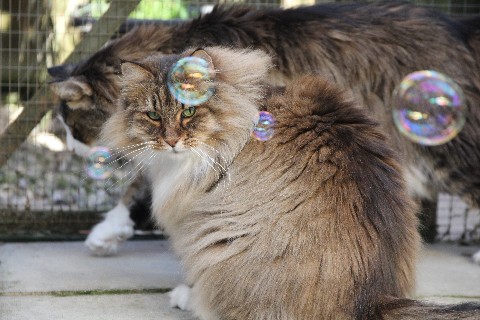 The little "bunnies" are growing lovely and are starting to be great explorers, releasing their inner rascals :)).Boo is not very convinced they should get out and spends all day returning kittens to the box. I'll try to update their pictures soon.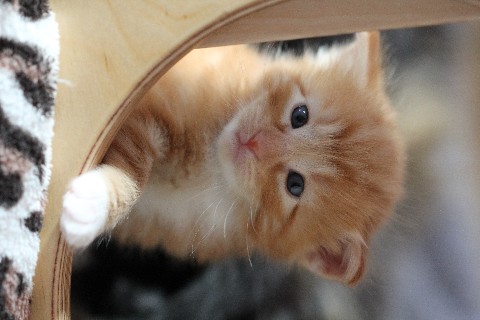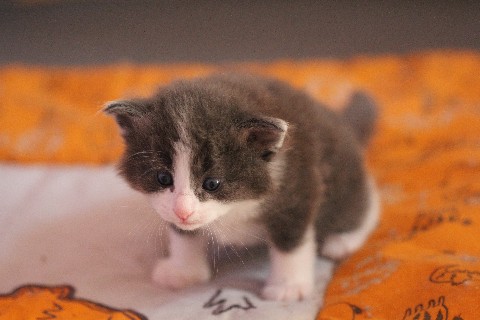 Enya and Jazz celebrated their 12 birthday on the 29th of April, we hope they will be around for many years to come.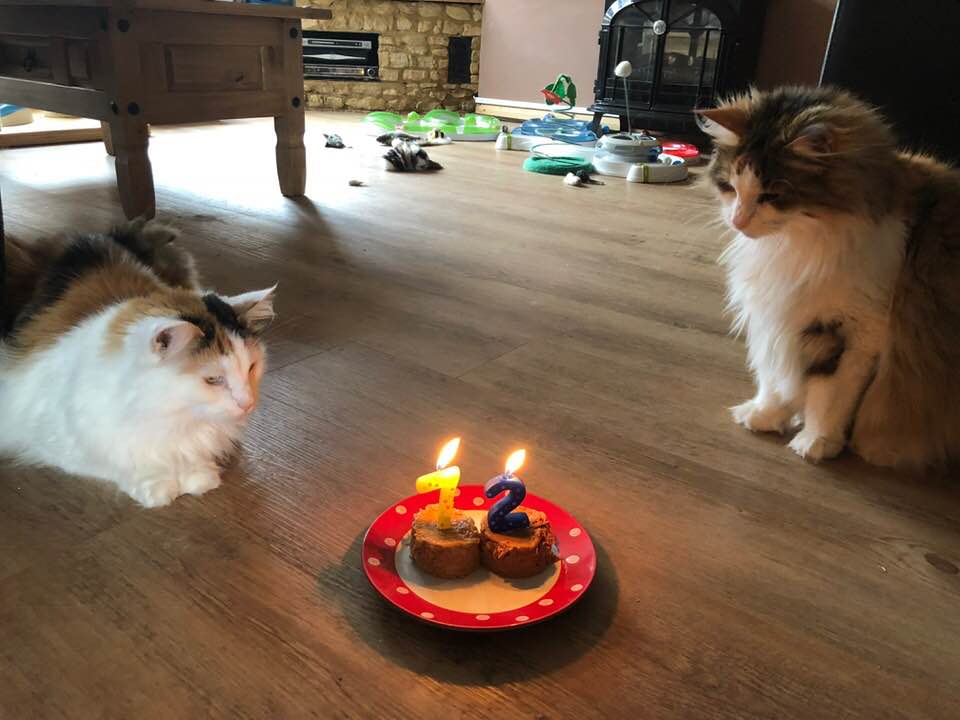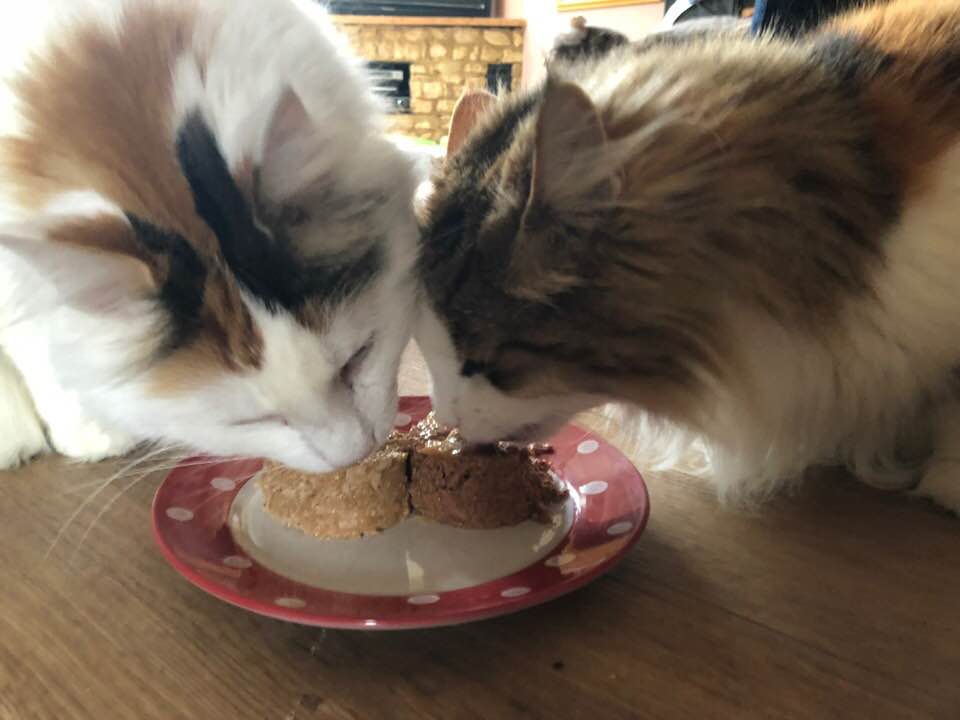 Father of our current litter our gentle boy Tommen still with some of his winter coat.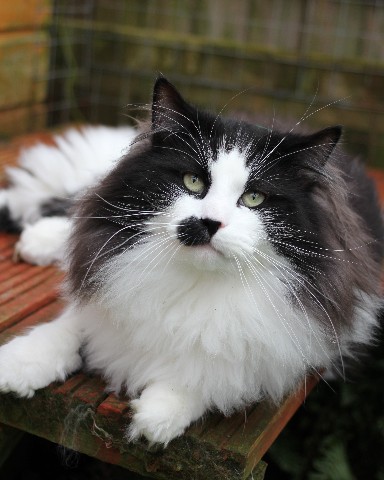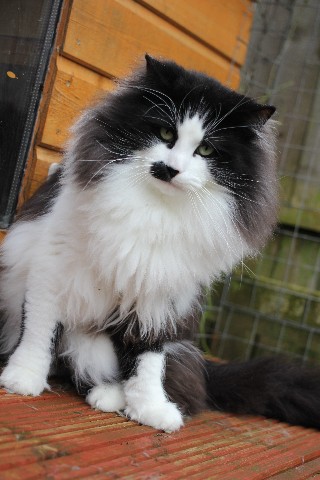 24th April 2018
We welcome our first litter this year, our Peter Rabbit litter of 6 beautiful kittens between Boo (GB*Nandinakatts Mississippi Mud Pie) and Bigotitos (Ch Tommen Baratheon Tree House*ES).

Our Shadowhunters have all move to their new families and started their new adventures.This last weekend the remained two, Alec and Magnus, moved to sunny Spain, were they will be spoiled and rotten. Izzy is now enjoying the company of one of her nephews, so is Clary and Jace Walance will be part of our breeding plans when he is old enough.
This year we have loads of plans but cats not always agree with human plans as we all know :).
22nd April 2017
We are still having problems with broadband and house phone line, we have no land line from 4th of March thanks to Virgin being so difficult and slow.
Please use our email address to contact us.
We want to welcome our Vampire Diaries litter between Rocko and Juliet. More info will come soon.
We also want to welcome the first litters sired by Prince Charming over Padawan cattery, of our dear friends Alexandra and Nuno.
22nd March
Last weekend we had a lovely time in the Viking Cat Club were on Sunday we celebrated the 11 months birthday of Rocko and he was Ex1, CAC both days, nominated both days and Biv-Total on Sunday of a fantastic group 6.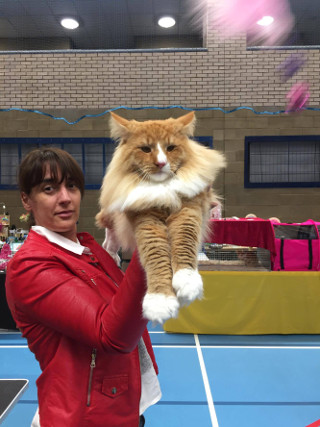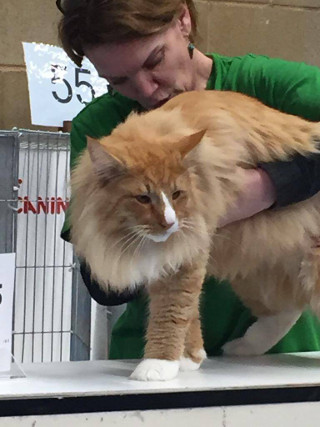 GB*Nandinakatts Robin Hood made his debuts on Shows and was Ex1, CAC both days and just delighfull to have in the show bench.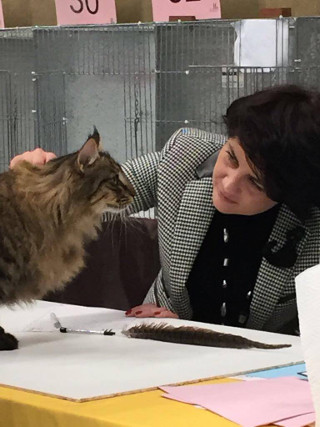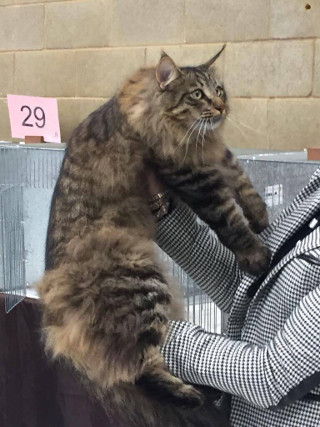 As some of our cats entered decided they had another compromises on the day we took SP & GIC GB*Nandinakatts Mrs Tiggy Winkle and she gaines another Prize of Honour for her colection on the Saturday. On Sunday she didn't want wake up that early :-)
Our Once Upon a Time litter are growing fast and wonderful, at the moment all the kittens are on hold waiting for their visist of their prospective new families, a bit late but due to an incredible busy time for us.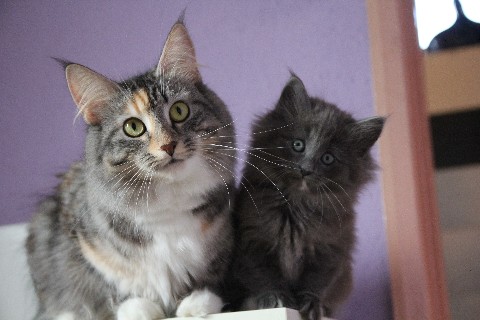 Mummy, daughter Ariel....and feathers
Last but not least Juliet is expecting her first litter of kittens around the middle of April, we are very excited about this.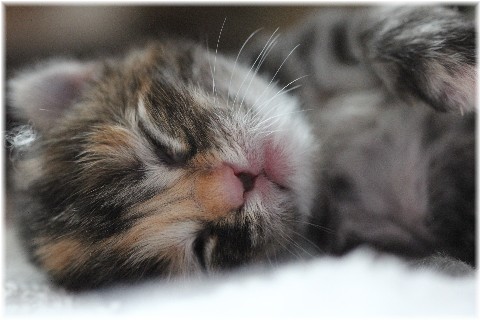 Baby Juliet