Updated 22nd April
We are still having problems with broadband and house phone line, we have no land line from 4th of March thanks to Virgin being so difficult and slow.
Please use our email address to contact us.
We want to welcome our Vampire Diaries litter between Rocko and Juliet. More info will come soon.
We also want to welcome the first litters sired by Prince Charming over Padawan cattery, of our dear friends Alexandra and Nuno.
22nd March
Last weekend we had a lovely time in the Viking Cat Club were on Sunday we celebrated the 11 months birthday of Rocko and he was Ex1, CAC both days, nominated both days and Biv-Total on Sunday of a fantastic group 6.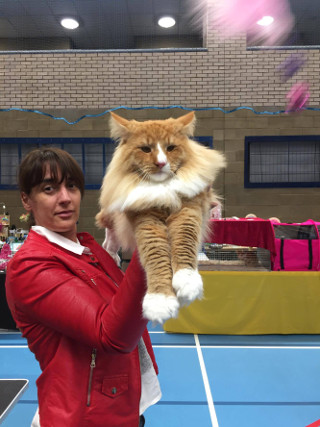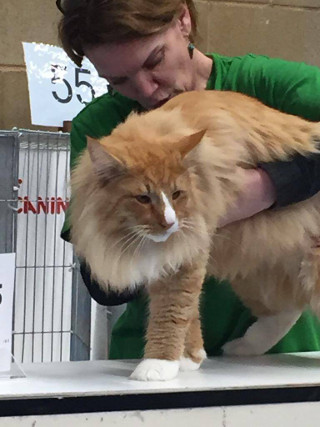 GB*Nandinakatts Robin Hood made his debuts on Shows and was Ex1, CAC both days and just delighfull to have in the show bench.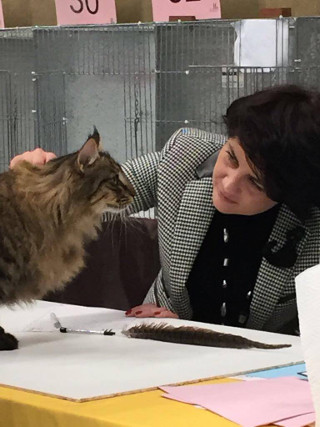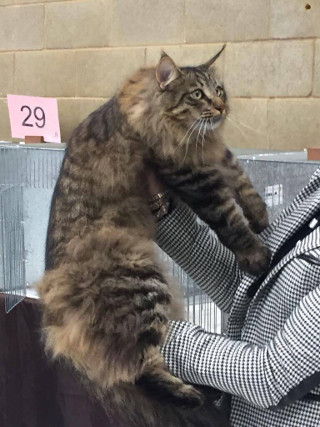 As some of our cats entered decided they had another compromises on the day we took SP & GIC GB*Nandinakatts Mrs Tiggy Winkle and she gaines another Prize of Honour for her colection on the Saturday. On Sunday she didn't want wake up that early :-)
Our Once Upon a Time litter are growing fast and wonderful, at the moment all the kittens are on hold waiting for their visist of their prospective new families, a bit late but due to an incredible busy time for us.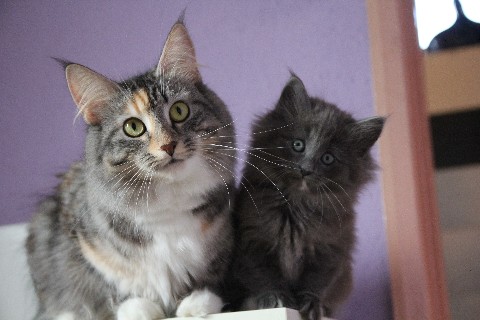 Mummy, daughter Ariel....and feathers
Last but not least Juliet is expecting her first litter of kittens around the middle of April, we are very excited about this.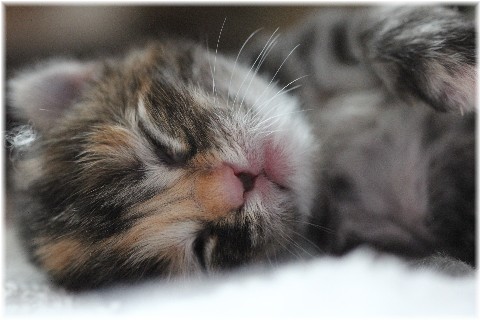 Baby Juliet
7th February
We welcome our Once Upon a Time Revisited litter, Aurora and Tommen present us with 4 lovely kittens on the 31st of January. We decided named them after the series as their mum.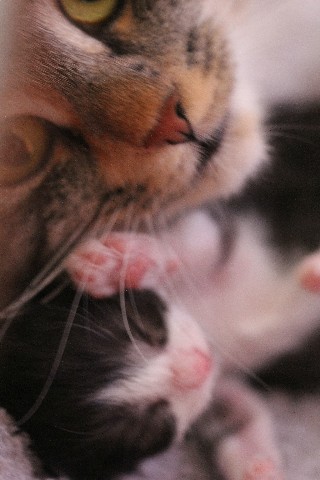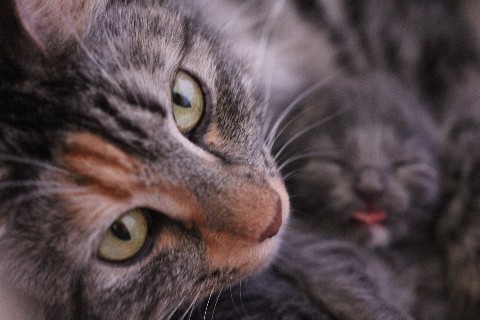 Proud mummy Aurora

10th January 2017
First than all Happy New Year everyone!!!
We didnt have an update since August,so many things happened since then although life in here is sometimes very hectic and then we need a looooong update.
Our "Bigotitos" (Tommen) made himself proud and us, of course and became Champion and then took a little break while he recovers his fabulous condition, being all ok as he qualifed during the year he will come with his daughter to the Winners Show.


Yes, you guessed, we couldnt resist to keep one of the daughters of Kira and Tommen and she will soon appear together with the rest of the girls.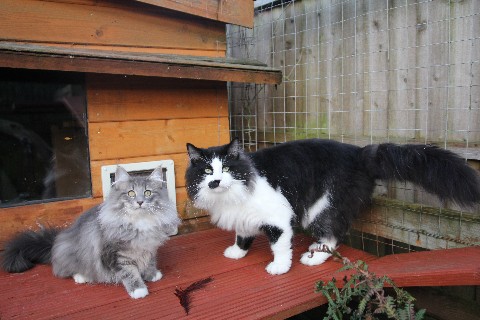 In October we went to the World Show in Vienna, but as i was not feeling my best i decided not to take the cats this year, but we never come back from Vienna without a souvenir that flight from Spain with his breeder. We welcome from Spain (yes, another from Spain :)) Rockateur Nabatea*ES, our new kid in the block that give our breeding a touch of Boomer and us the satisfaction of sharing our lifes with Rocko.
I know we didnt need another boy, but we needed Rocko and sometimes you have to allow the heart win the head!!.
Rocko did us all proud in Vienna and got Ex1(5) and almost the BIV, it was so much emotion, but in the end went for the gorgeous female kitten. In December he came to his first UK show and he got the nomination.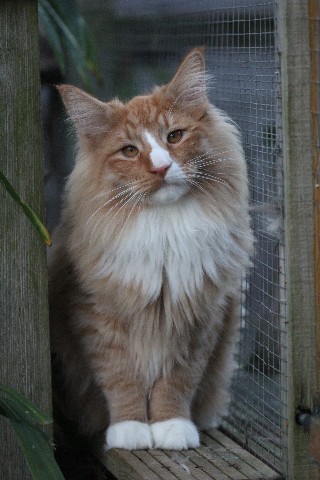 After we came back Lady Sybil pass to be another happy neuter, as with the "bionic" leg she has develop a bit of arthritas and is not in her best interest a pregnancy, that was another reason her grandaughter Bournvita stayed here. I must admit it was a bit sad but always we try to do what is in the best interest of the cats.
All of our kittens left us by the time November arrived and this is always a mixed of feelings between sad as your little babies left the nest, but so happy as they all have fab new families and you enjoy watching the photos, videos of their antics at their new homes. Of course, this time we had Bournvita and Rocko to enjoy extended kittenhood life all for ourselfs LOL
In December we attend to the last show of the year and Charming got another BIV-Total (number 9) and another nom (number 8), and that surely is very nice for a cat that competes in the most complicated and populated group,he also became International Champion at 16 months old and got also 3 Best in Shows. This year he will come to the Winners Show with the dream of repeat last year achievement as he was Best in Show kitten :).
After this he will be concentrate in daddyhood and probably will take a break,as at the moment he has nothing else in mind so we are confident he will be good at this :)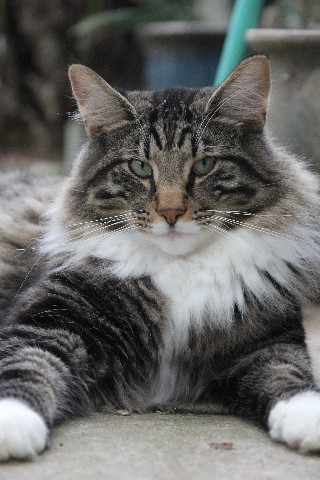 The plan is his brother Robin will take kindly Charming space. Robin is being chipped so he is not (thank goodness) with girls in mind.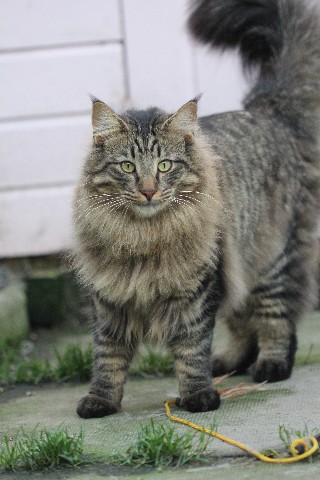 Hola also became since August Supreme Premier achieving the highest title for a neuter in Fife and she will come to some shows here and there as she is a joy to show and to try the difficult Distinguised Show Merit.
We have a lot of plans and projects this year, but we all know with cats we not always agree.
We are 99'9% sure we are expecting kittens for the very end of January beginning of Febrary, or that, or she ate something large and is still digesting :). We will put more info when we have confirmed the lovely news.
As always we are very exciting of welcoming a new litter.
We will also try to update a bit more the page and more frequently and of course the new additions will soon appear in here.
10th August 2016
Well... we have some very long awaited kittens :)
On the 24th of May Boo gave birth 3 lovely kittens of Amadeus, our Jungle Book litter.
On the 13th of July Kira had 5 lovely kittens with Tommen, the first litter of both that we have called "Nighty Night Litter" as during the pregnancy Kira had to have Horlicks every night to the point Sue used to give her own mug.
On the 30th of July we welcomed 3 kittens of Kylie and Dylan, the first litter of Dylan in our cattery. These are our "The Magicians Litter"
More info will be on the website soon. While this we enjoy seeing them growing and their fabulous antics.
On the June show GB*Nandinakatts Prince Charming became Champion at 11 months old, he also got his first CACIB on Sunday,BIV-Total and the nomination.
This weekend we will be attending Colchester Show so if you are around please come a say hello:).
14th May 2016
Bit by bit the website is finally getting some updates, thank you to our new webmaster Nuno ;)
Last weekend we were in Edenbrige show, we spend a lovely weekend with friends and the cats once again made us proud. I spend a busy weekend being steward for an Spanish judge, and I had the opportunity of learn a bit more.
GIP & GIC GB*Nandinakatts Mr Tiggy Winkle got her CAPs both days and BIV on the Saturday and lost both day nomination agains a lovely Maine Coon.
GB*Nandinakatts Prince Charming was 10 months on the Saturday and he became an "adult" and he managed two CAC and on the Sunday he got the BIV-Total of and incredible group IV and also the nomination!
Tommen Baratheon Tree House*ES was Ex1 both days in his second show, and the nomination on the Saturday of an incredible panel.
Thank you my fab friends of look after my cats while I couldn't.
It was fantastic see other cats from this cattery with their owners and the offspring of Amadeus with some of my friends which also did well, so happy happy granny ;)
Best part of shows is the company and all the cuddles.
Being all ok we are expecting the patter of tiny paws for the beginning of June, we will put more info when they all arrive as this year with one things and other, plans are going exactly wrong lol. We also will be updating our plans soon.
16th April 2016
Finally some news, I've being meaning to do this for ages, but you never find the time.
In the end of January we attended to the National Winner Show and we are so happy and proud that Prince Charming was Best in show kitten and overall best kitten, also Hola was nominated and both got the BIV.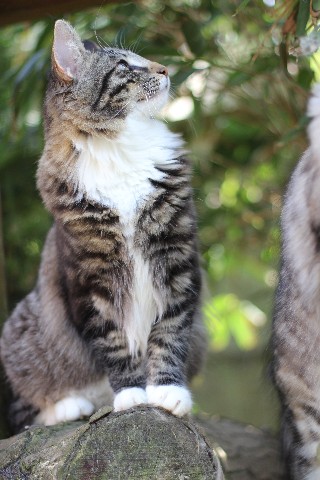 Just after the Winners Show we welcomed our new Spanish boy Tommen Baratheon Tree House*ES which have a lot of cats in the pedigree we have lost in our breeding programme and we are so happy to recovered. A very sweet nature and happy boy who has integrated very well and hopefully soon will have his page. We could be more grateful to Lucia and Fabio for allow Tommen be part of our family.

On the beginning of February, we welcomed our first ever litter of a singleton, via C-section and we named him Han Solo. A very special and adorable kitten.
Also we being doing some shows and the cats are made us proud and of course we enjoy the company of our beloved friends and the much needed laugh.
We have some exciting plans, but it is a bit earlier to disclose if they are materializing yet, so hopefully I will be back later with that.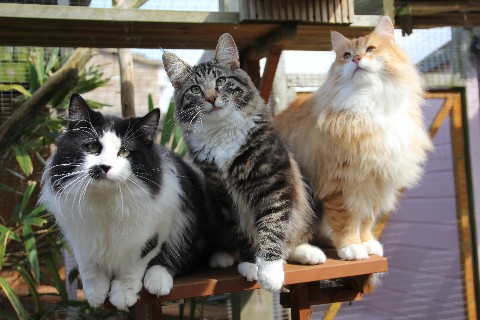 3rd November 2015
Well, where to start…..
I try to summarize….
It is being a hard summer as in the end of July Boomer left us after a short period of illness and losing weight. This was devastating to us and a month later we learn that what look like a Lymphoma was in fact dry FIP mimicking cancer in all his organs. His post-mortem was carried out at The Royal Veterinary College and revealed that his offspring is totally safe as this kind of illness is random and not genetic.
We miss our little bit of Spanish sunshine a lot, but he lives on in his daughters and sons.
In the beginning of July the last present of Boomer was born in our cattery, we didn't know then how extra special these babies were going to be.
The proud mum is Queeny (GB*Nandinakatts Queen Elizabeth) and we name this litter Once Upon a Time as we love the series, but more important the name seemed to fit perfectly the occasion. Queeny gave birth to no identical twins and despite she retained the placenta for 6 days and almost had to have a C-section to get rid of it all she was fine and she is a fabulous mother as in her previous litter.
Time soon flies and two of the kittens have already started their new adventure in their new homes.
Captain Killian Hook and Belle are now part of two breeding programmes in the UK and we are happy to announce that Prince Charming and Princess Aurora will stay with us to continue the lines of their precious daddy.
During the summer we attended some shows and Hola did us proud with 5 Best in Shows in a row!!!
We have just come back from the Fife World Show that took part in Malmo (Sweden), and I was pleased to go back, three years later of my first visit.
We had a lovely time and despite that in the last minute Juliet was calling and we decided not to give her a long trip like that.
Nandinakatts Mrs Tiggy Winkle won her certificate in an amazing competition of group 4!!!
Nandinakatts Tiramisu, with her owner Liz, was the youngest in her beautiful class and was down to the last 2 with fab comments.
Both behave fab and did us very proud!!!


We didn't come from Malmo with empty hands as we collected the handsome DK*Dan-Queen Bent (Denmark), who will be part of our breeding programmes and of course our families. We asked the breeder of Bent back in May as new lines give some variety and new genes to any programme, but after what is happened this is very good news.
Many thanks to Dorthe Ellgaard and her family for trust this handsome boy with us, he will be adored by all of us and give our breeding programme some wonderful things

All Ben and Jerry's litter are now happily in their new homes, Clever Cookie is doing very well in GCCF and mum Shakira is now a happy neuter, she gave us fabulous litters and is time for her to retire of the breeding, of course she is still here (watching what I am typing). We are enjoying for a bit longer of the company of Cherry Garcia ;)
During the summer also nice things happened related with our cattery GB*Nandinakatts Lady Mary became International Champion and GB*Nandinakatts Lady Edith Grand Champion
GB* Nandinakatts Georgina and Jingle Belle become mums with unexpected dad GB*Nandinakatts Chocolate Fudge Cake "Choco" that is as relaxed and happy as before of the big events :-).
We got some exciting new plans for the New Year and we will add more info soon.
Hopefully bit by bit we will be adding photos and news so the page is more up to date
8th July 2015
We have kittens born to Queeny and Boomer on 6th July 2015.
20th June 2015
New pics of Ben & Jerry's litter.
6th June 2105
We are happy to announce the arrival of the litter between Shakira and Amadeus, a bit early than expected but they are all doing ok.
14th May 2015
We had a lovely weekend in Sevenoaks, thank you to the Garden of England for made that possible for all of us.
On Saturday after a few months where he was first living with us and then move with lovely Annette on Casmexkatts IC GB*Nandinakatts Seeley Booth became Grand International Champion and Distinguished Variety Merit in his 17 BIV!!!!, he was a sweet and leave me hold him like if he never left, he also is celebrating he will be daddy for first time soon.
IC & SP GB*Nandinakatts Squirrel Nutkin was HP, both days and got the NOM
GB*Nandinakatts Lady Sybil was back in the show bench with her lovely "bionic leg" and got 2 x CAC
GB*Nandinakatts Kira Nerys was CAC, BIV, NOM on Saturday and CAC on Sunday
GB*Nandinakatts Mississippi Mud Pie was EX2 to her sister Tiramisu
GB*Nandinakatts Georgina Harrison 2x CAC
CH GB*Nandinakatts Worf 2 x CACIB becoming yesterday International Champion (way to go Worfy boy he is only 1 year old :))
GB*Nandinakatts Tiramisu, Saturday EX1. Ex1, BIV, NOM on Sunday
GB*Nandinakatts Chocolate Fudge Cake EX2 on Saturday and EX1 on Sunday staying as the two last kittens for the nomination and losing it against his sister Tiramisu
GB*Nandinakatts NY Cheesecake came for the Saturday and was EX1, BIV, NOM
They all got lovely reports and yesterday a judge come to me as she was told I was the breeder of the Puddings and she congratulate me, which almost made me cry
We are extremely happy and proud of our cats, thank you everyone for a lovely weekend specially to Annette and Liz xx
7th may 2015
It's being a long time....
In this time we welcome our Take away Litter between Missy and Boomer that present us with two lovely boys, Ant and Dec.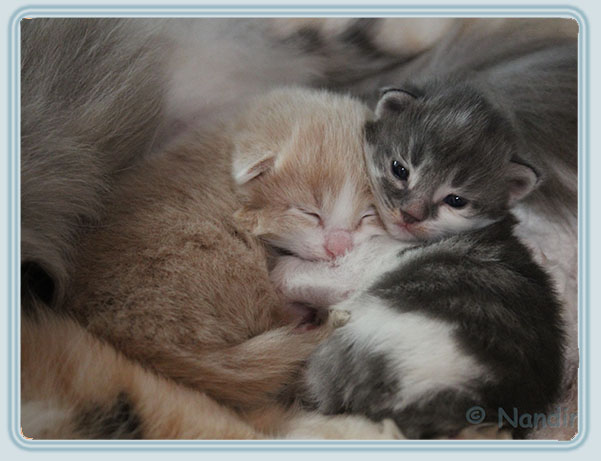 Ant and Dec 2 Weeks Old
We recently being in Belgium and France and we are pleased to announce Dylan and Worf became Champions in the end of April in St Quentin (France). I will be putting all the results when I have a bit more of time ;).
Dylan is absolutely lost his lovely coat and he will be now entertaining some of our girls.
Our Shakespeare in Love babies are 10 weeks old and are absolutely delighfull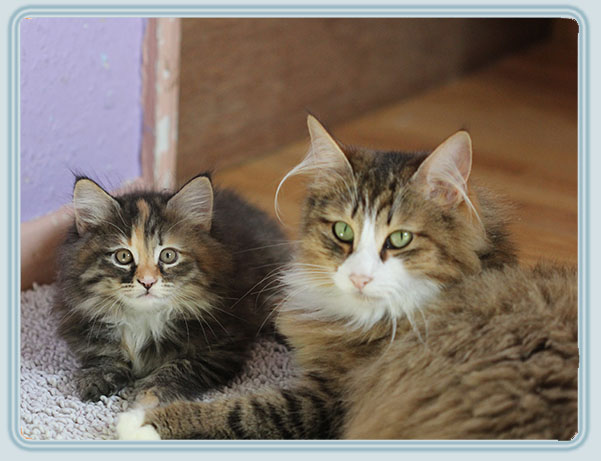 Kylie and her daughter Juliet
We got also some good news and we are expecting kittens for the middle of June, soon all info.
31st March 2015
New pics of the Shakespeare in Love Litter at 5 weeks.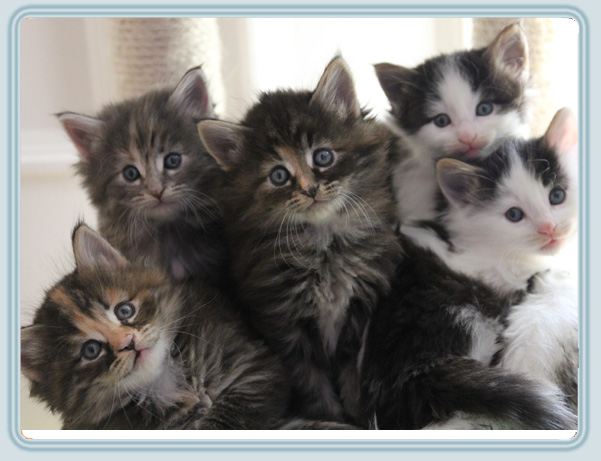 2 March 2015
We have kittens. The Shakespear in Love Litter, born on the 18th February 2015.
02nd February 2015
Well Where we can start? As Dave use of the hand unfortunately is deteriorated I'm going to try my best to learn how to update the page.
On the 25th of January we went to the Felis Britannica Winner Show with some of the cat that qualificated to go during 2014 and these are the results.
IC Gilgad's Purple Haze got Ex1 and his point (his 8 but as they are from two different countries he needs one more)
CH Boomer Nabatea*ES ex1, CACIB, BIV-T
GIC GB*Nandinakatts Mrs Tiggy Winkle Ex1 CAPIB
GB*Nandinakatts Worf- ex1, NOM
Thank you all for a fab day x
Our next show being all ok will be in March in Tienen (Belgium) where hopefully 3 little Puddings will make their debut in the show bench.
Our sweet Puddings are moving on to start their new adventures. We are missing them a lot as we do with everyone but this sweet litter came during some difficult time and they didn't fail in cheer all of us a lot.
We have some exciting plans this year, when I learn how to put some photos I will update them :-).
In the mean time we are expecting a litter of kittens around the 20 of February, we already "meet them" via ultrasound in our vets, they also seemed so pleased of be caught in camera :-).

29th January 2015
I'm working on it ;)
12th Nov 2014
New pics of Puddings litter at 4 weeks.
New pics of Freddie and Boomer.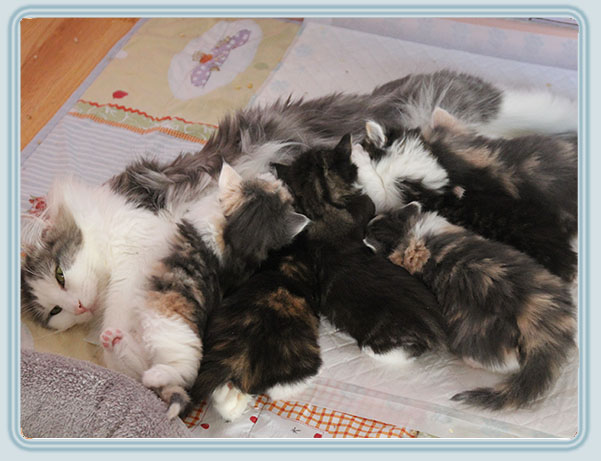 30th October 2014
Well I am back folks, typing with one finger and making plenty of mistakes.
It takes me twice as long to do anything but it fills the day. So enjoy the pics and hopefully see you at the shows when I can drive again.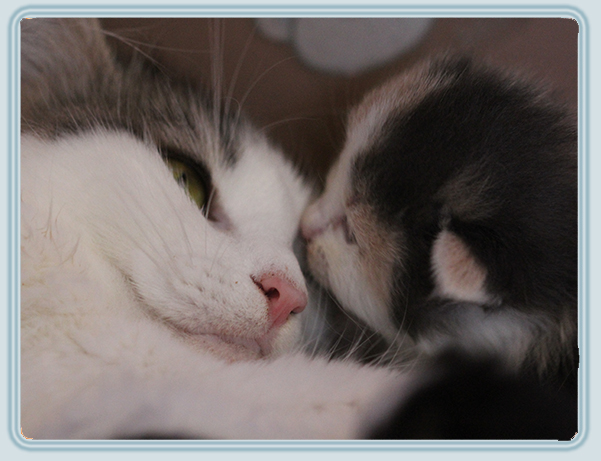 A proud mummy.
15th October 2014
Last Saturday, a little bit earlier than we expected we had the pleasure of welcome to the world a litter between Boomer and Pudding, the first for both and I know we are biased, but a very beautiful one ;-)
They arrived after the sad day of Dave having to go back into hospital, so they were a little bit of good news for us.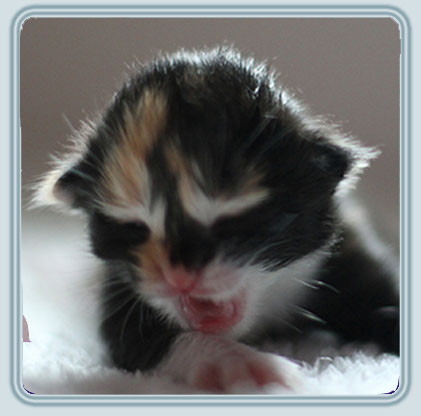 Missisipi Mud Pie wanted to say hello ;-)
This litter has the first solid torties of this cattery.
More info coming soon.
29th September 2014
Where to start?.... Our Sybil broke her back leg on the 3rd of September and went to a very big operation with an specialist that correct a very nasty spiral fracture of the tibia. She spent a few days in hospital before coming home. She is being a little star as she has to be on cage rest for 5 weeks and is doing brilliant. Last week she was a few days back in hospital due to a skin infection that the cast made to her but is back with us at home
now :-).

We are not out of the woods until the end of 5 weeks, when she will have an x-ray too be sure all is healed well,but she is doing great.
Dave was also back in hospital for a week as a result of an unecessary antibiotics he was given causing damage to his kidneys. This set him back a bit but he is also back home recovering well :-).
Everybody else of our furry friends are ok.
We attended to a cat show in Coventry on the 6th of September thanx to the help of Liz and Julie as without them I wouldn't be able to make it.The result were:
Pr & GIC GB*Nandinakatts Mrs Tiggy Winkle gain her first CAPIB and the Nom with a vote in the panel
GB*Nandinakatts Beverly Crusher Ex1(3), BIV
GB*Nandinakatts Kira Nerys Ex 3
GB*Nandinakatts Worf Ex1, Nom...
GB*Nandinakatts Baby Love Ex1, Nom
GB*Nandinakatts My Girl Ex1
And at last but not least we are expecting some new arrivals around 15th of October being all ok and I will try to put some photos when they are here and give you all the relevant information ;-)
22th August 2014
Due to Dave having had a stroke we are unable to update the website as much as we would like, however please feel free to contact us if you are interested in our plans ;-).
The majority opf our kittens are already enjoying life with their new families, we got a few that will move a bit late so we are enjoying their sweet company for a bit longer.
In the middle of July we had a lovely weekend in Moulton international cat show, were I took a few extra cats with me as I was asked to and we were only local. Also we tooks the lovely Bumble and Apple while my dear friend Kiri were attending to a weeding, and she joined us on Sunday .
A bit "mental" but enjoyable .
IC BE*Gilgad's Purple Haze had his points both days and enjoyed the show bench cuddleing with CH Boomer Nabatea*ES who got his two first CACIB and was BIV-T on Sunday.
IC Nandinakatts Kylie got her first point towards Grand on Saturday and BIV-Total of a gorgeous group 4. On Sunday she stayed at home.
GIC GB*Nandinakatts Mrs Tiggy Winkle got CAP both days and the nomination and was also BIV on Saturday, becoming Premier!!!
Seeley Booth got his BIV number 15 yesterday and was nominated on Saturday with a vote in the panel
GB*Nandinakatts Maiya come and joined us on Sunday and she did Ex1, Thank you Liz and Nigel, was lovely to see you.
And last but not least the sweetest Olivia (Squirrel Nutkin) got the points both days loosing the posibility of nomination against her sister "Hola" but becoming Supreme Premier, we couldnt be more proud!!!
I will be doing some updates of what I am able to do and posting some pictures here and there in Facebook.
19th June 2014
All of our kittens are now reserved however there may be some good news towards August, further details to follow soon.
Last Saturday we were in Lutterworth International Cat Show where it was the first outgoing of Hola (GIC GB*Nandinakatts Mrs Tiggy Winkle) as a neuter gaining her first CAP. Lance and Olivia both got their CAPs and Boomer got his 3rd CAC becoming Champion at the tender age of 11 months ;-).
Seeley Booth gained his 12th BIV and GB*Nandinakatts Apple of My Eye made us very proud becoming BIV, Nominated and Best in Show kitten with 3 votes out of 4 ;-)
All their results will be soon in their individual pages and some pictures as well.
By the way we finally found the two missing kittens and the mother if you can see her in the background. Only 30 minutes of swearing involved for this pic!!!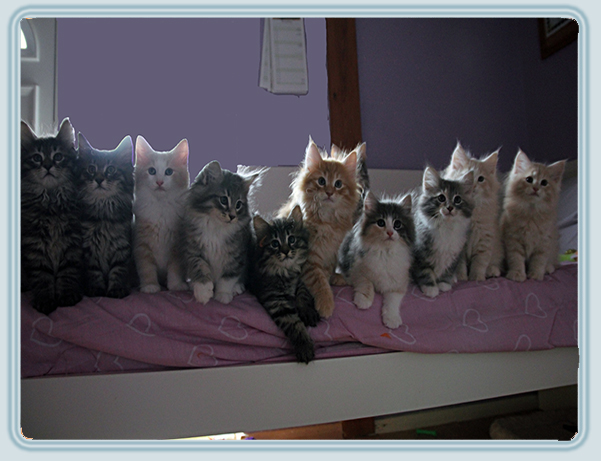 12th June 2014
New pics of Star Trek Litter & The Fab Four Litter @ 8 Weeks
New pics of Caramel Cove and Jelly Bean (courtesy of the Smile family)
4th June 2014
New pics of Star Trek Litter & The Fab Four Litter @ 7 Weeks
New pics of Boomer, Freddy and Seely Booth.
Due to the recent riots on the shed roof in the side garden we had to re-felt it this week. While we were at it we turned the shed round by 90 degrees allowing me to see whats going on from the bedroom window. I can now deploy robocat at a moments notice to break up any further attemps at a pussycat coup happening. Unfortunately in the process poor old Amadeus has lost his access to watch the birds on the front lawn for a few days. Needless to say he has been having protest pee's everywhere else in the meantime. Anyway I am having a few days in Holland so he will just have to put up with it ( maybe I will be bringing him back something to play with).
There's two missing somewhere??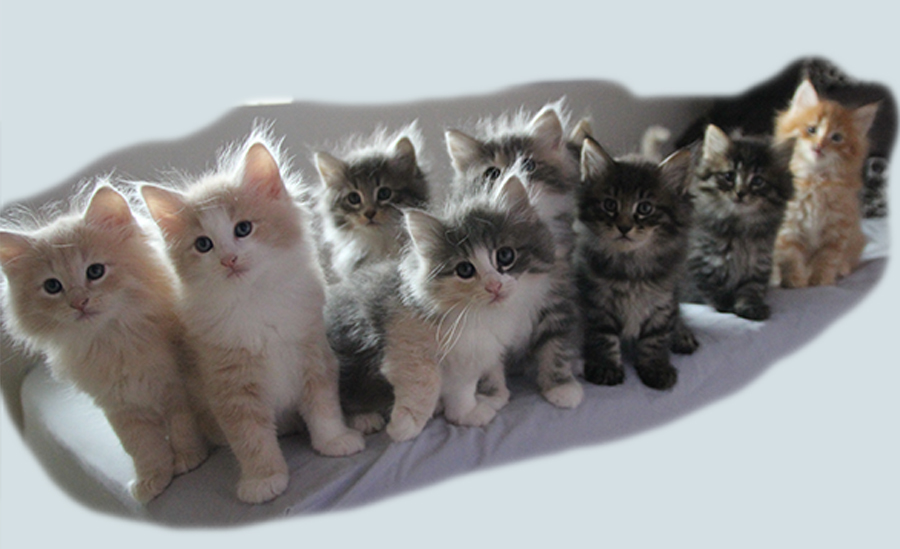 20th May 2014
New pics of Star Trek Litter & The Fab Four Litter @ 5 Weeks
14th May 2014
New pics of Star Trek Litter & The Fab Four Litter
Al Fresco dining all together.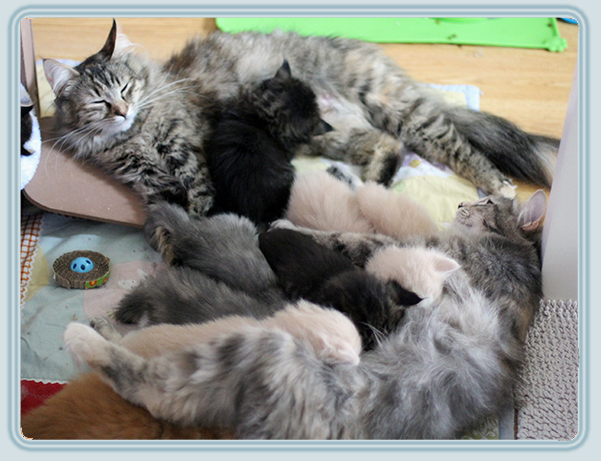 We had a lovely weekend in Swanley were:
GIP & IC GB*Nandinakatts Squirrel Nutkin got two CAPs
Boomer Nabatea*ES got his two first CAC and on Sunday BIV
CH GB*Nandinakatts Queen Elizabeth got her two last CACIB becaming on Sunday International Champion
GB*Nandinakatts Pudding Pagoda got CAC(2) on Saturday and EX2 on Sunday
GB*Nandinakatts Take on Me got 2xEx1 and 2xBIV-Total
and IC GB*Nandinakatts Seeley Booth got his 2 first CAGCIB
So proud of all of them :)
5th May
New pics of Star Trek Litter & The Fab Four Litter Katey and Pudding
29 April
New pics of Star Trek Litter & The Fab Four Litter
25th April
Now back home and all settled after a lovely show in Apeldoorn where
Boomer Nabatea*Es did his last show as a junior with two EX1
and GIP & IC GB*Nandinakatts Squirrel Nutkin got the CAPs both days, BIV on Sunday and was Nominated both days.
They behaved wonderfully as always and did us proud.
We missed Gary a lot as unfortunately the car broke down in the hotel car park and we were already inside of Eurotunnel but is just one of those things.
It was a lovely, huge show and we hope repeat the experience next year.
If anyone ever visits Apeldorn we can highly recommend the Van Der Valk Hotel. Only a tiny bit more expensive than the cheapest hotels in that area but well worth the extra. It was definately a 5 star experience in all respects.
We proudly present our litter 20 "The Fab Four" and "The Star Trek" Litter 21.
Tempy being the cuddly mum that she is.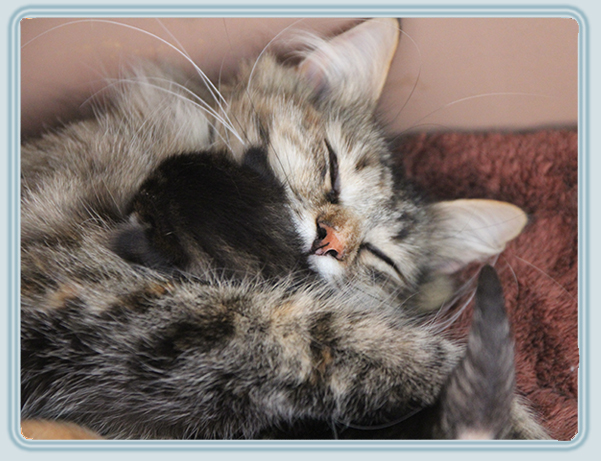 The Fab Four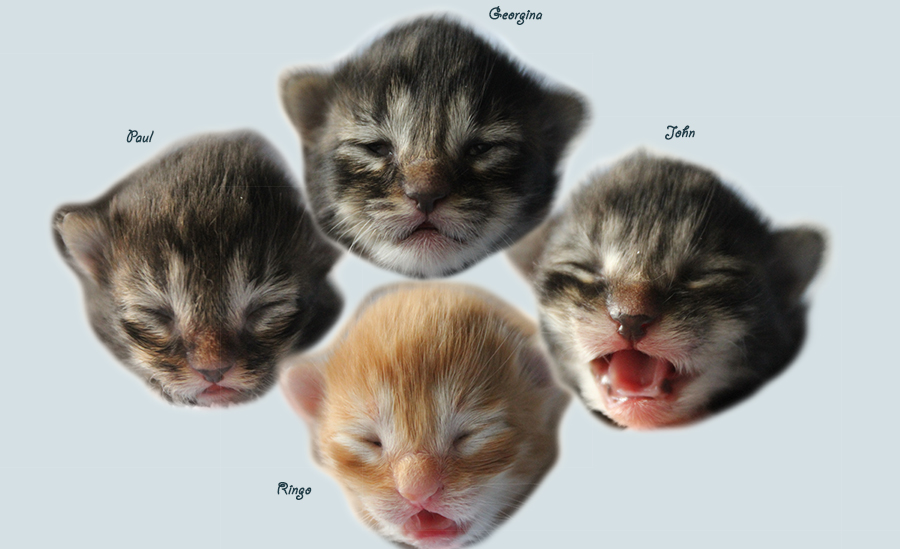 The Star Trekkies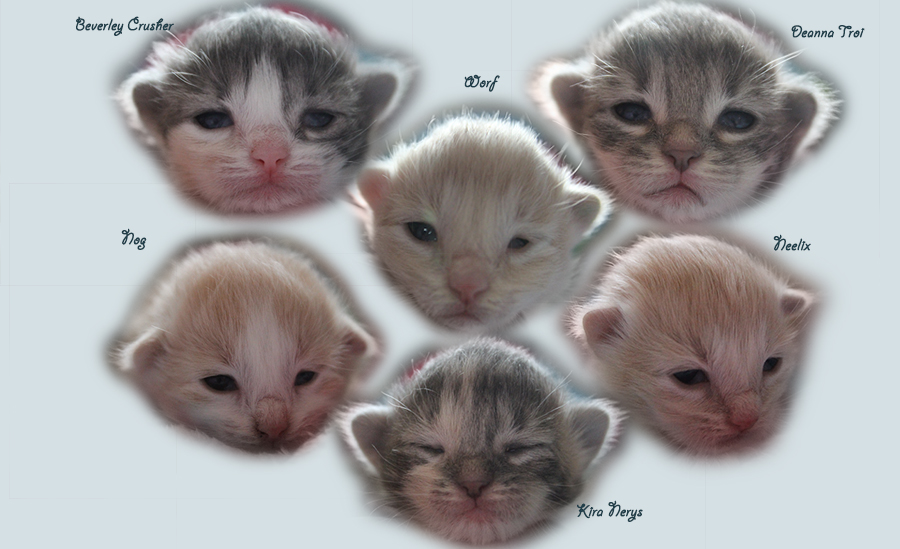 16th April 2014
GOOD NEWS! We have 10 new kittens born to Tempy and Sybil on 13th and 14th April. A few little problems with some of them being breach births but all are ok up to now. Pics and names will follow shortly as soon as time allows.
27th March 2014
New pics of Babylove, Birdy, Boomer, Alexandre, Maiya, Sergei and Lance Sweets.
Tempy patiently waiting for her first litter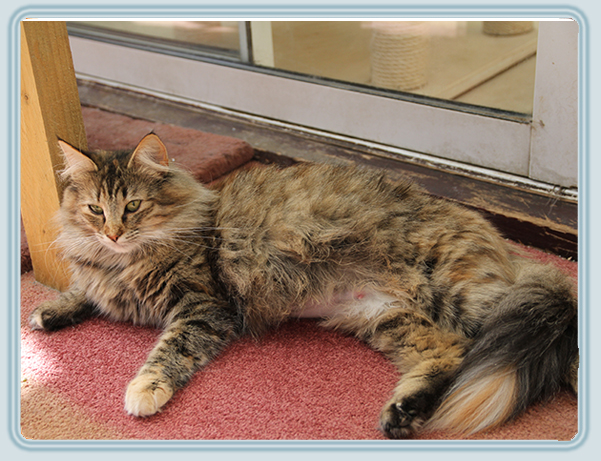 Simples Litter, well almost.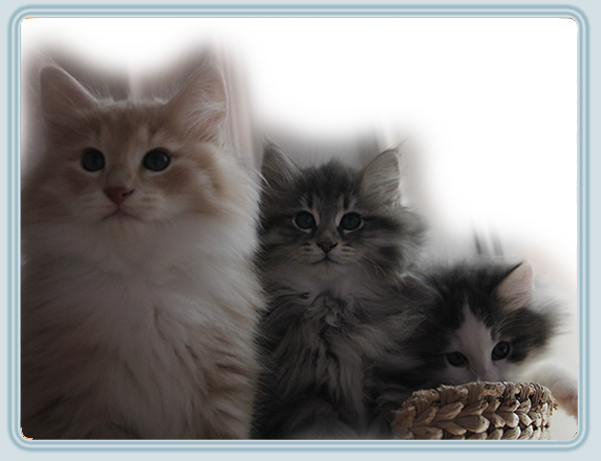 We had a lovely show yesterday in Wolverhampton:
CH GB*Nandinakatts Kylie- Ex1, CACIB her 5th, so she becomes International Champion in her first outgoing after having kittens
GB*Nandinakatts Pudding Pagoda - Ex1 in her second visit to the show bench.
Boomer Nabatea*ES- Ex1, BIV 3-10, NOM our little bit of spanish sun just shine again in a very gorgeous class.
GIP & IC GB*Nandinakatts Squirrel Nutkin- CAPs, BIV, she also received the lovely Freya Memorial Trophy for becoming Best Norwegian Forest Cat Neuter 2013. Oli got to meet her grandchildren Jack.
Pr GB*Nandinakatts Gucci- CAPIB he came for the day and had loads of fun as it was ages he didn't came along.
18th March 2014
Finally a few pics for our avid fans.
Lady Grantham (Downton Abbey Litter) courtesy of her owners. Simples Litter, Love Birds litter, Olivia, Lance and Pudding.
The Love Birds Litter are all happily settle into their new homes and we want to wish them the best in their new lives. Take on Me and Apple remain in co-ownership with us and there will be soon some photos in their new houses and we will sort out their new pages :-).
We are happy to announce we are expecting kittens mid April (being all ok) from Tempy and Sybil, keep you posted in due course. More info can be found in our planned litters.
Olivia (IC & GIP GB*Nandinakatts Squirrel Nutkin) became 2nd Best Female Neuter in Category II and also Best Norwegian Forest Cat Neuter 2013 in the Annual Points awards of the Show Year of Felis Britannica.
Well the weather has changed for the better so this means more work in the garden. Almost finished another pen so we have room to give the entire boys some fresh air during the summer months and then there's a few roof repairs to do when I can get at them ready for next winter's onslaught.
We went to a show in Belgium in Tienen (1st and 2nd of March) and did very well considering the competition:
IC Be*Gilgad's Purple Haze was Ex4(5) on Saturday and Ex3(3) Sunday. I have to admit he has lost his lovely condition and I was pushing a bit with this show as perhaps a bit young to his high title but never less he enjoyed his little holidays and travel so well as always.
Boomer Nabatea*ES did his first show as a junior and did Ex1 and BIV-J both days and got a very difficult nom on Saturday where he got 3 votes in the panel! and the so very beautiful winning girl got 4
IP & IC GB*Nandinakatts Squirrel Nutkin got her certificate both days and the nomination having 4 votes on Saturday (losing by one) and a draw on Sunday where the deciding judge went for the other beautiful girl. She also became Grand International Premier on Saturday.
IP GB*Nandinakatts Lance Sweets got his certificate both days of 2 cats and became on Sunday Grand International Premier.
At last but not least CH GB*Nandinakatts Seeley Booth got both days his certificate and became International Champion. Needless to say we are very proud of them all.
Next show is in Wolverhampton this weekend I think then after that we are off to Appledorn in Holland in April. It will be nice to see all our European friends there again.
Ollie became GIP in Belgium Show.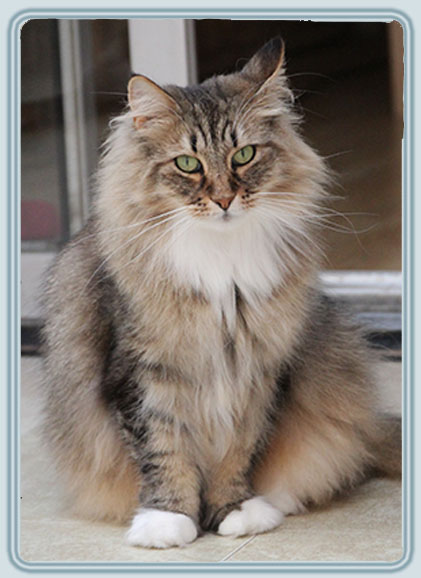 Lance became GIP in Belgium show.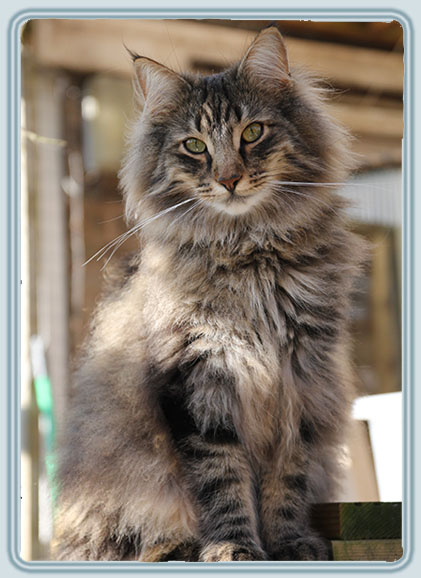 23rd February 2014
Hellooooo!! I want in on this pic too!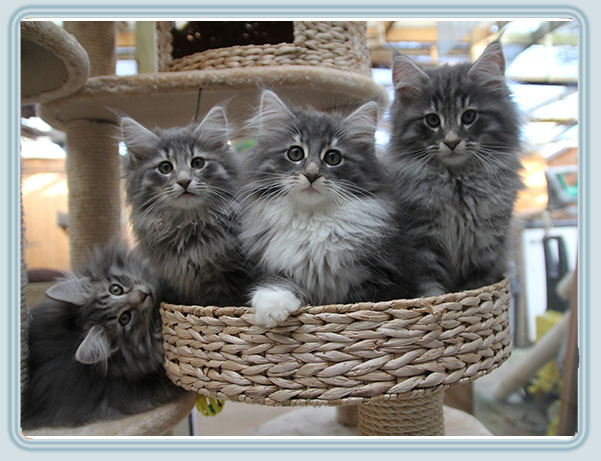 Well another week gone by, soon be spring.
Its been a busy week with visits to the vet every day for one thing after another. Three Love Birds reacted badly to the second vaccine but seem to be recovering now except the latest one which will take a few days. Today is a little better but we think another couple of days before we see significant improvement. Her new mummy is coming to see her today so that will speed the recovery hopefully.
I have been busy trying to complete ons side of the new pen while the weather has been kind. I thought I had done this yesterday but......... Well the story is Hola lost all her kittens as you may know and was neutered at the same time as having the C-Section. This confused her totally and therefore she was living in my bedroom to recover with the aid of 3 pairs of socks scented up from Queenies kittens. This was working ok until Hola decided she wanted out of the room so we let her choose. This wwas ok until she met the other kittens,queens and others etc. A few small fight ensued so she had to go back to the room. However she was determined to come out again and after 2 night without much sleep I deemed it necessary to send her to the new pen with birthing box and socks :)
This was late last night and then we all went to bed. The next thing I know is someone jumping on the bed and who was it? Yes you guessed it, Hola. In the space of a few minutes Houdini had escaped the pen and come back into the house. Well I left her roaming free and she behaved all night so things may be looking up. The story will continue next time.
Thre are new pics of Lady Mary and Lord Grantham courtesy of their owners. Alexandr, Maiya and Sergei (simples litter), Take on me, Baby Love, Birdy and Apple (Love Birds Litter).
14th February 2014
Sometimes breeding is so sad, our beloved Hola (GIC GB*Nandinakatts Mrs Tiggy Winkle) was expecting kittens for the end of February, we realized she was not putting much weight at all and of course our vets checked that and confirmed that it was not good news, in the beginning she was having the operation in a couple of days but then she deteriorated very fast and she had an emergency c sec the following morning and she was also spayed as of course her health is our priority.
She is coming around now (a huge thank you to all the staff at Northlands Veterinary Hospital especially to Catherine Corden-Parry who did the op) The sad part is there were 5 little angels that didn't make it but mummy is doing well.
Finally I have made some progress in the new pen. Insulation is now complete and the internal pen construction is coming along nicely. Its now so warm in there with just a small heater I may move in myself!!
Life in Nandinakatts continues as normal now.
Michelin Star Catering? Judgement is still out!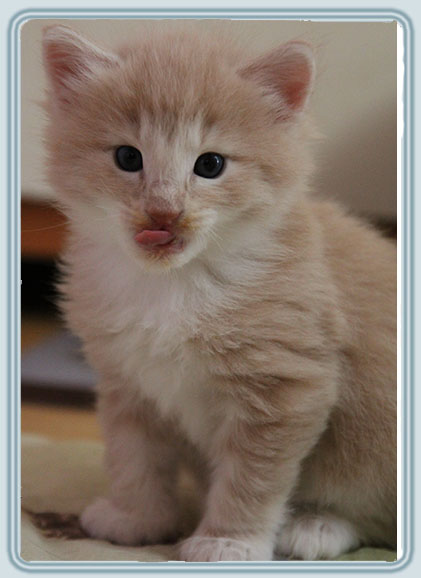 New Pics of Love Birds Litter, Pudding, Boomer, Hola, Munchkin, Katey and the Simples Litter.
I can lick rings around you fishes!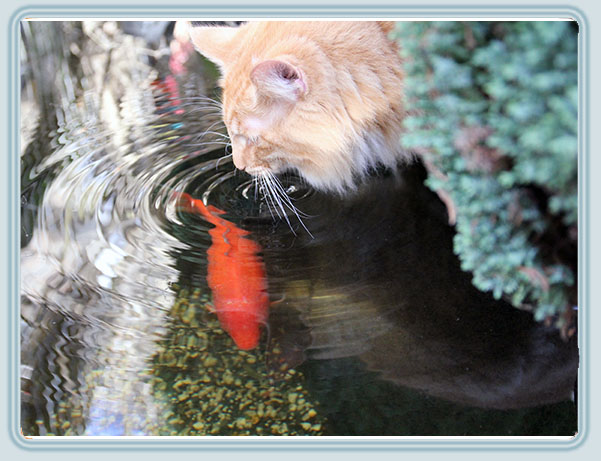 31st January 2014
New pics of Love Birds Litter and Simples Litter
Mummy, count to 10 and we go and hide.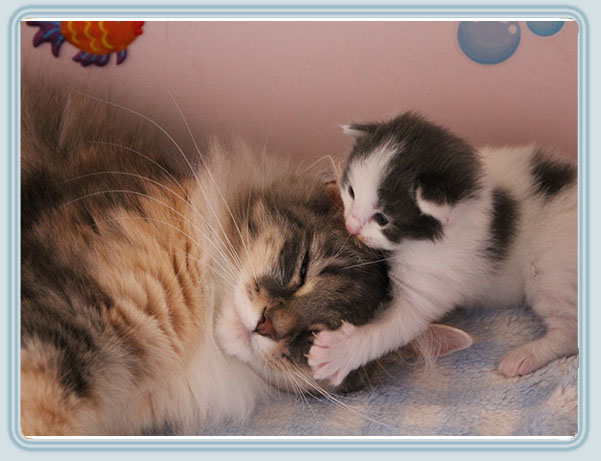 My mummy loves meeeee!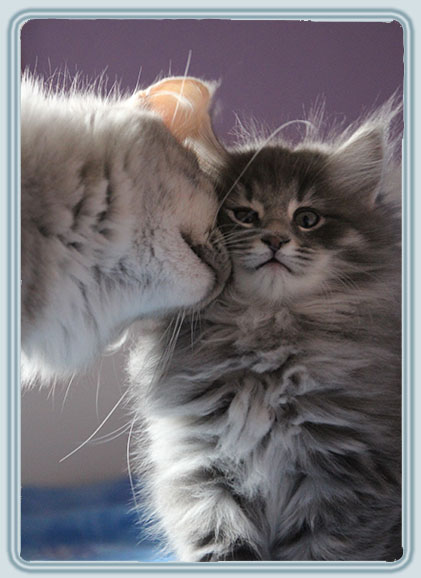 Well citizens, the all winners show in Corby has been and gone for another year.
The attendance was not as good as we anticipated but it was still a good show.
Bacon butties were supplied by our good friend Julie Potter who lives just a few yards from the show hall, and very tasty they were too.
Also several other friends arrived to see what all the fuss was about and thanks to Kiri for coming down from the wastes of Derbyshire to do the vetting in.
A nice surprise too was the appearance of future Norwegian lover "Joseph" the new arrival to our local vet's household:)
Clara's technical bit:)
We have a lovely day yesterday in the Winners Show in our home town in Corby where Shakira did her first visit to the show bench after became Supreme Champion and we are so proud and happy she managed another BIV becoming DVM!!!
IC Gilgald's Purple Haze- EX1, CAGCIB, BIV-Total, NOM
IP Nandinakatts Lance Sweets- Ex1, CAGPIB
Boomer Nabatea*ES - EX2
IC & IP GB*Nandinakatts Squirrel Nutkin- Ex1, CAGPIB...
GB*Nandinakatts Pudding Pagoda- EX1(2)
The cats had lovely raports and enjoy being admired for loads of public .
Thank you everyone than came and make our day,
Of course thank you to the show team and all the exhibitors friends.
20th January 2013
Technical note! Some viewers have been unable to view some pages. Please go to your browser tools and check the box to allow the browser to check for newer pages everytime you visit a website. Hopefully this should cure the problem. If you find any missing or broken links please contact us with details.
New pics from our visit to Sharon and Chris yesterday, unfortunately Merlin was sleeping and refused to take part
Candy Crush, Tom Kitten (Elgin) and Versace (Mia) all played the game beautifully :)
Pics of The Simples Litter (we got eyes now so we can see...simples) and Love Birds Litter.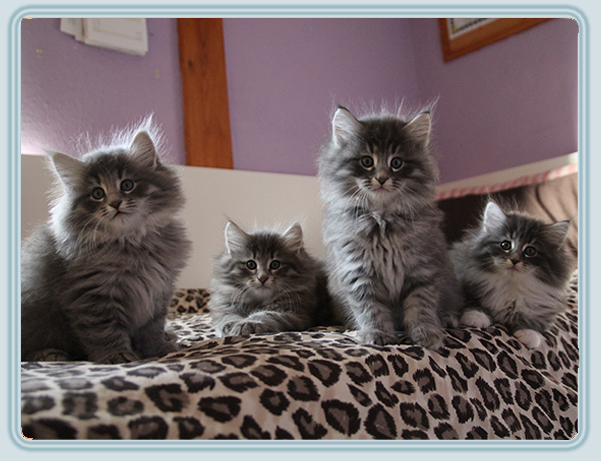 14th January 2014
We had a bit of surprise on Sunday as Missy decided that the kittens were being "toasted" enough and have them at day 60 (just as well we didn't go to the show in Holland).
After what it seemed the longest birth ever between kittens we proudly present our "Litter Simples" with 3 lovely, healthy kittens that if were left more in the "oven" would be enormous :-).
It is always a privilege be part of the birth of our girls.
Our Love Birds Litter is doing fab, so sweets babies and we are very happy with their development ;-).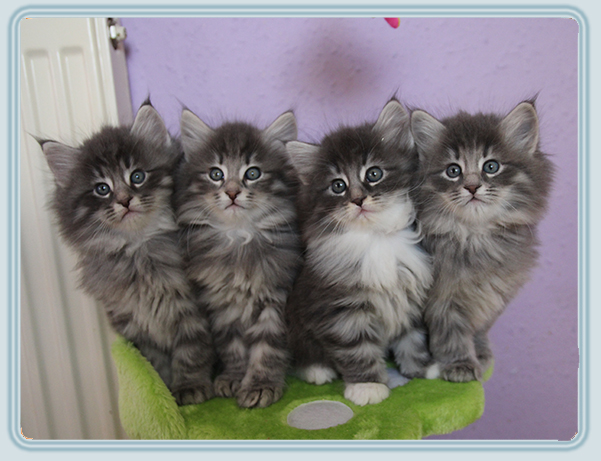 New pics of kittens @ 7 weeks old. Getting cuter by the day:)

Boomer is very settle and happy and soon we'll be putting some new pictures.