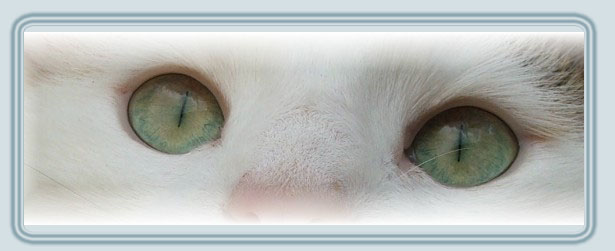 Jazz joined us together with her sister Enya at the end of July 2006. Such a lovely and happy girl always trotting around, purring, and into everything. Jasmine is the high white Cezanne and Ilios "gave us" after Molly.
At first she was going to be the only one for us, but having seen her with Enya it was always the case they could not be parted. Enya became available so .......well you can guess the rest.
We think we must be so dirty because all they do is lick and lick us ;-).
When they are in play mode they rip around the house like formula 1 racing cars; and are forever play fighting with each other. Jazz has demonstrated that she is very clever cat, she manages to walk over the wash line, and climb like a monkey, she is a real challenger for cat proof gardens.
She is a real fuss pot, she got the soppy way from both parents and likes to sleep on our laps in the most strange positions. She is constantly purring and you can hardly listen her meows, when she wants something she always "whisper" ;-). She will come as soon you call her name, always happy and trotting.
She has the most gentle temperament in the world and together with Daisy she is our lap cat, she goes one lap to the other to share her love with everyone! ;-).
She has done us so proud in shows despite she insists in doing her impression of a ball, she doesn't pose at all but still she manages to do so well as she gets "the awww factor" and sort of puts up with the shows as long as she isn't alone.
In May 2008 she became aunt of our first ever litter, and she really enjoyed playing and washing every single kitten, we didn't expect less from her as she is a real darling!.
She is really tender with all of our kittens and enjoys their company.
Specially in 2009 Jazz got an incredible show career becoming Distinguished Show Merit winning her 13th Best in Show on the 5-12-09. As well in the Felis Britannica Points Awards revealed in February'10 she became:
Best Neuter of the Year 2009
Best Category II, Norwegian Forest 2009
Best Norwegian Forest Cat Neuter 2009
Second Overall Best Cat 2009 (all breeds)
We are so proud of all her achievements, Jazz can now enjoy her well earned retirement from the show bench, and she won't have to worry about doing her well known impressions of a rug or a ball anymore! ;-).
It is a pleasure to share our lives with all of them, thanks to Firoza and Na'il Davies again.

| | |
| --- | --- |
| | |
| Dam: IC GB*Tuulikki Luonnotar | Sire: IC Norgeskaukatt Ilios |