Premier GB*Jotunkatts Katsura

NFO f 03 24 | Black Tortie Spotted Tabby Bi-Colour
D.o.B 29/04/2006
Female Neuter


5th BEST ALL BREED JUNIOR 2007

4th BEST SEMI-LONGHAIR JUNIOR 2007

(Being shown just once as junior )

OVERALL BEST NORWEGIAN FOREST 2007

(ANNUAL NORWEGIAN FOREST SPECIAL)

-------------------------------------

VIKING CAT CLUB

INTERNATIONAL CAT SHOW MORLEY LEEDS

Sunday 09/09/2007

(J. Rudolph) Class 8 (CAPIB) Premier Female - CAPIB

Unfortunately, we had to withdraw Enya when they started to choose the BIV because again like in Thornbury she was really scared and not in the best of the moods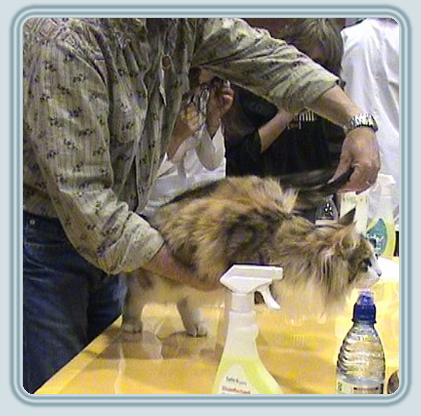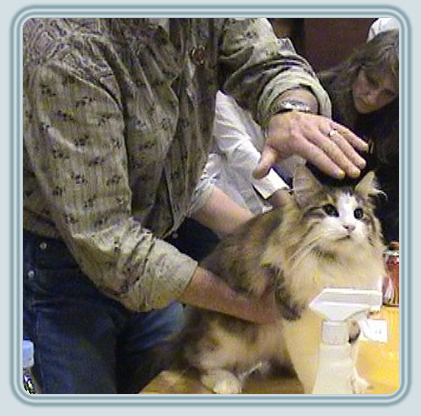 ARISTOCATS
INTERNATIONAL CAT SHOW FORUM, THORNBURY, SOUTH GLOUCESTER
Saturday 16/06/2007
(M Sanda) Class 10 (CAP) Neuter Female - CAP (3), BIV, NOM, BOX (PREMIER)
Sunday 17/06/2007
(V Gane) Class 8 (CAPIB) Premier Female - CAPIB
Unfortunately, we had to withdraw Enya from nominations on Sunday, as she wasn't in the best of moods!. This made way for Jasmine - who (aswell as gaining her 1st CAP) - was given the Nomination; going on to win Best in show Opposite Sex Neuter!!
(there was no BIV on Sunday as there were no enough cats)
On Saturday Enya became a Premier after doing three shows straight - just like our Mo did.
----------------------------------------------
ARISTOCATS
INTERNATIONAL CAT SHOW FORUM, WYTHENSHAWE,
Saturday 31/03/2007
(W Sattler) Class 10 (CAP) Neuter Female - CAP (2),BIV,NOM
Sunday 01/04/2007
(S Bruin) Class 10 (CAP) Neuter Female - CAP (2)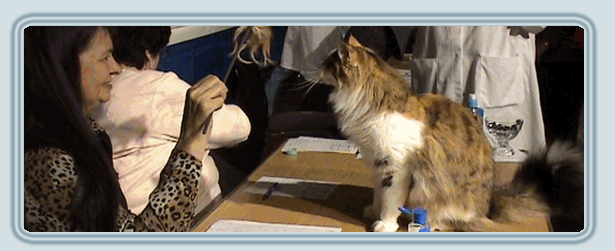 We went Manchester for a show, the first one with girls as adults and both did well. Jazz was second behind Enya but when she gets Enya out of her way she will be able to get her points ;-). On Sunday we couldn't do BIV because there wasn't enough cats and Enya lost the nomination against a Maine Coon. Both girls got lovely reports and comments.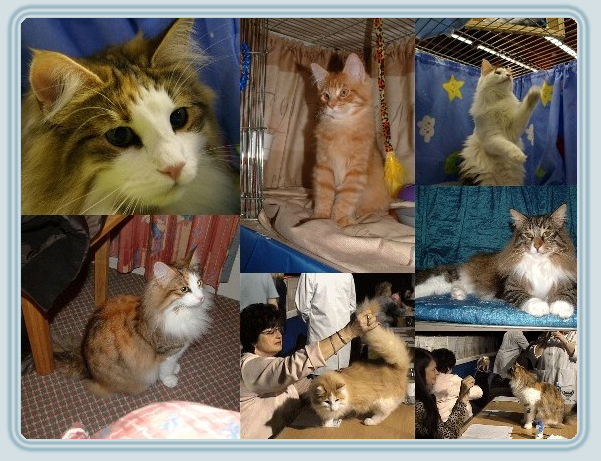 Some pics from the show
VIKING CAT CLUB
INTERNATIONAL CAT SHOW STANTONBURY, MILTON KEYNES
Norwegian Forest Special
28/01/2007
(L.Coste) Class 11, 6-10 Month Kitten - EX1, BIV, NOM, BIS 6-10
Norwegian Forest Special NOM, Best Norwegian Forest Junior 2007
&
Overall Best Norwegian Forest Cat 2007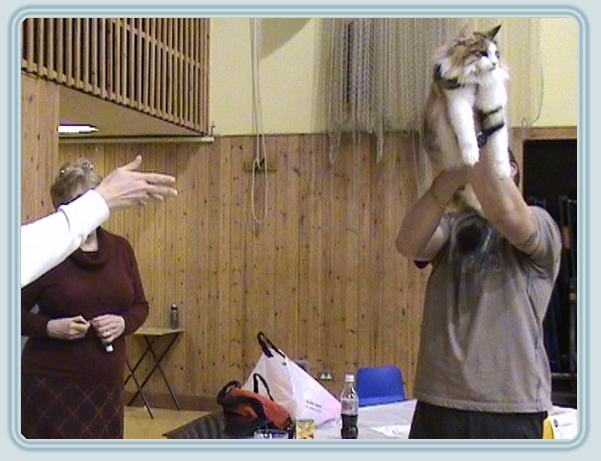 What a day we had!!!!
We went to the Norwegian Forest Cat Special ( 82 forest cats in catalogue) and I can't believe the results;
Enya (GB* Jotunkatts Katsura) was EX 1 (4), BIV, NOM for the Best in Show and Special, winning the Best NFO Junior and Best Overall NFO!!! at only 8 months old. She then went on to be Best in Show Junior. We heard incredible comments from at least three judges there, they were all very impressed with her :-).
If we haven't had enough Enya won the two side classes she was entered into of our club, being Best Kitten and Best Member.
Their mummy Cezanne ( CH GB*Tuulikki Luonnotar ) got her point for championship, was BIV, NOM for both special and BIS winning for the second year Best NFO Female.
Jazz ( GB* Jotunkatts Mountain Lily) was EX 2 (4) ( lost against her sister), and she got as well nice commentaries and place in side classes.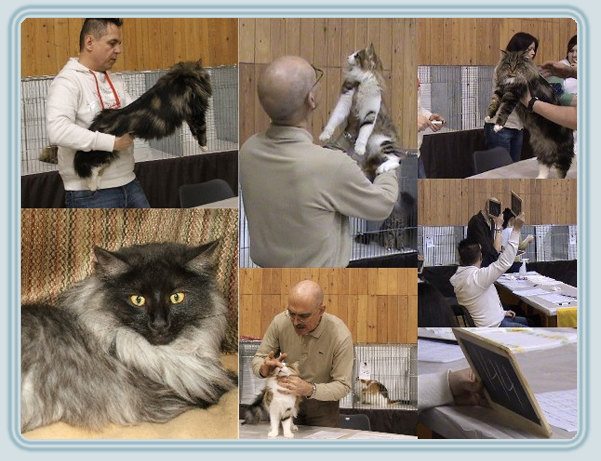 VIKING CAT CLUB
INTERNATIONAL CAT SHOW LINCOLN
22/10/2006
(B.Mahelka) Class 12, 3-6 Month Kitten - EX2(4)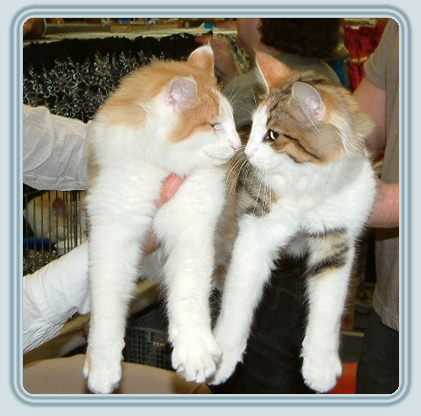 With brother Flame