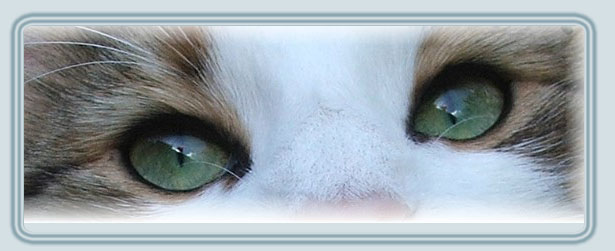 Enya came to us at the end of July 2006 together with sister Jasmine, from our good friends Firoza and Na'il. I know it is another set of sisters in the house, but obviously we love it ;-).
She is the tortie I always wanted from Cezanne as i adore torties.
Enya and Jazz have got a lovely relationship, and they really love each other. When one does something the other follows; and it is so cute when they try to find each other and make little chirping noises.
Their relationship is so nice but they are little beggers together when they are in a mischievous mood. She always has that face of "what, me?, I didnt do it"
She is a very content cat and a friend of everyone - even if it is the first time she has met them.
Enya was born just before Jazz and now the are growing seems to be acting like the "big sister". She is very talkative like her mum, and when she demands some cuddles you better leave all you are doing :-).
She has a very lovely temperament but is a strong character and she knows what she wants ;-). She has done extremly well at shows and in 2007 became Best Overall Norwegian Forest Cat at the annual special. Unfortunately soon after that she got a bad experience at the show bench and now she gets really scared at cats shows. For these reasons we retired her of the show bench as we don't see the point if the cat doesn't like it. In any case she already did her" bit" ;-).
She has a real good bond with her sisters Jazz and Amelia and she misses them a lot when they attend a show, but the reunion when we are back is really worth to see as she lick everyone and "speak" with them like she was telling them off for leaving the building ;-)
She became an aunty when Amelia gave birth to our first litter in May 2008 and demostrate to have incredible pactience and love for her nephews and nieces. She can seen curled up with Shakira or Erin very frequently and giving them some extra wash.
At almost four years she has passed the mark of 8kgs of weight is and suddenly a very impressive powerful girl.

| | |
| --- | --- |
| | |
| Dam: IC GB*Tuulikki Luonnotar | Sire: IC Norgeskaukatt Ilios |